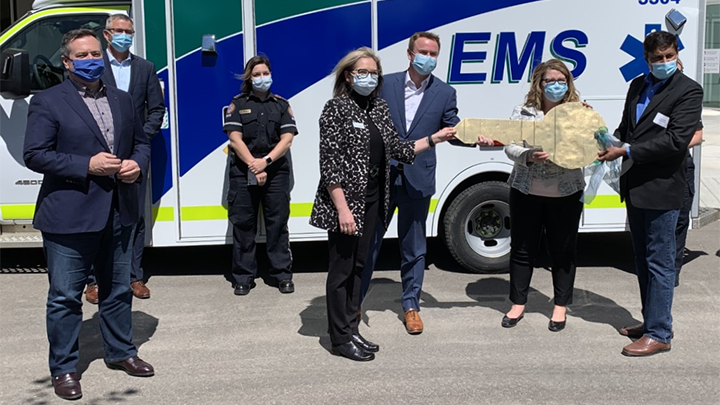 Senior Operating Officer Stacy Greening accepts the key to the new regional hospital in Grande Prairie from Health Minister Tyler Shandro, Grande Prairie MLA Tracy Allard and Infrastructure Minister Prasad Panda, while Premier Jason Kenney and Finance Minister Travis Toews look on.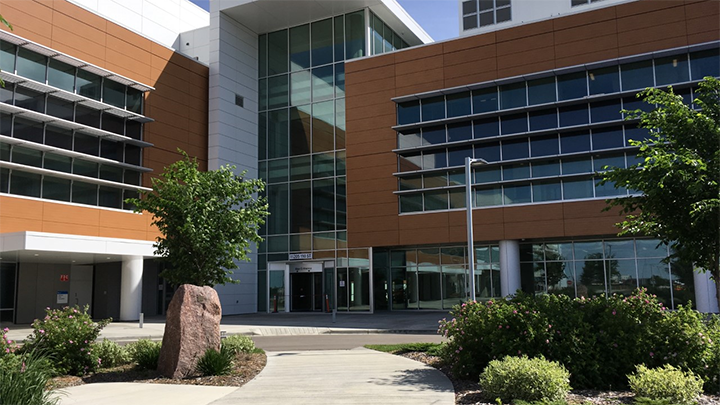 The new regional hospital in Grande Prairie will officially be handed over from Alberta Infrastructure to Alberta Health Services on July 1. Operational commissioning work must be completed before the facility will open to the public.
Much work to be done as commissioning of facility begins
Story by Diana Rinne
Keys to a new regional hospital in Grande Prairie were officially presented to Alberta Health Services (AHS) in a ceremony held on June 26.
"AHS is thrilled to see construction of the new Grande Prairie regional hospital project completed," says Stacy Greening, Senior Operating Officer for AHS in Grande Prairie. "We thank Alberta Infrastructure, Dialog Design, Clark Builders, Graham Construction and all of the contractors involved for their hard work and perseverance on this project."
The new hospital — slated to open next year — features single inpatient rooms, which include medical, surgical and rehabilitation, intensive care, cardiac care, obstetrics, neonatal intensive care and pediatric beds. There are two radiation vaults in the new state-of-the-art cancer centre, bringing radiation therapy services to the community and the surrounding region — a first for northern Alberta.
Outpatient programs will include specialized diagnostic clinics, medical day procedures, and a cardiac/respiratory program which will provide localized testing and treatment for patients with cardiac and respiratory diseases.
An educational space at the new hospital will be used for the training of nurses and other healthcare professionals on site, in partnership with Grande Prairie Regional College.
With construction now complete, there are still many months of work to be done to prepare for public opening.
"We are cautiously optimistic that we are now in a position to resume some of our pre-COVID-19 work, including moving forward with commissioning and move-in plans for the new hospital, if somewhat different than before," says Greening. "There may be unexpected challenges related to the pandemic that could impact the project in ways we have not yet anticipated and cannot control. Please know that the safety and health of staff, patients and families will always be our top priority."
Operational commissioning work includes detailed cleaning of the entire building, and the installation of furniture and equipment. It also includes testing of medical equipment and systems as well as orientation and training of staff.
The commissioning process will also include the implementation of the new Connect Care provincial health information network, which will allow healthcare providers and patients easy and comprehensive access to up-to-date patient information in one single patient record.
Premier Jason Kenney along with Infrastructure Minister Prasad Panda, Health Minister Tyler Shandro and local MLAs Tracy Allard (Grande Prairie), Finance Minister Travis Toews (Grande Prairie-Wapiti) and Todd Loewen (Central Peace-Notley) were on hand to mark the turnover of the facility to AHS.
"This is fantastic news for people in and around Grande Prairie," said Shandro. "We're a big step closer to opening a new, modern hospital that will continue to provide high-quality, publicly funded care to those who need it. There's still a lot of hard work ahead for AHS to commission the hospital but I'm looking forward to celebrating the grand opening with the people of Grande Prairie next year."
Greening says the new hospital will have "tremendous impact" on the region.
"Our staff, physicians and volunteers have always been the heart of our healthcare system, and we have no doubt that this new facility will help enhance all they do for patients and families," she said.