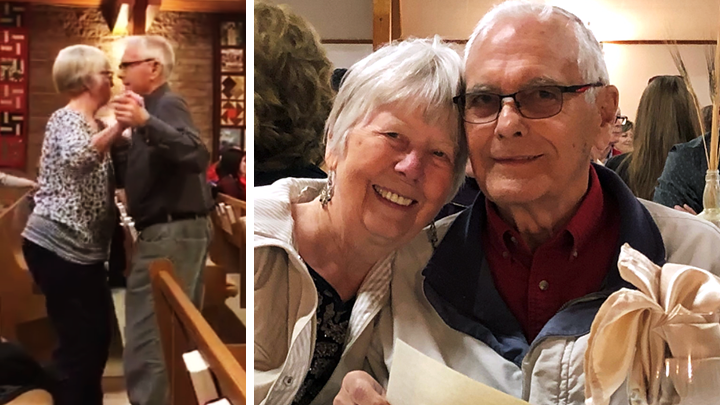 Ernest and Nyna Marr have danced and dined together for all of their 58 years of marriage. With the help of community partners and Zoom, COVID-19 hasn't gotten in the way of their social and quality time. Photo Credit: Supplied
Virtual community offers music, cooking, crafting & connection
Story by Tracy Kennedy
On a typical Saturday, you may find Ernest and Nyna Marr, both 82 years old, dancing at Lundgren Centre. Now during COVID-19, you may find the couple, married for 58 years, dancing in their living room to the light of a computer screen.
The pair are taking part in the Saturday Senior Jammers, part of a schedule of interactive social and health programming delivered via Zoom and known as Innisfail Connects.
These days, the Marrs are more cautious when cutting a rug: Ernest has dementia. His wife and care partner, Nyna, says it takes Ernest a bit longer to get going, but he can still do some of the moves.
"Dancing has always been a part of our marriage, our lives together," says Nyna. "So jamming is a nice hour to be able to listen and dance, because the more movement we do, the better it is for him."
In addition to listening to live music, the couple also go online for the Memory Café social gathering space and a falls prevention class, two programs designed for people with memory loss and dementia. There is also programming available to the wider, 55-plus community, with cooking classes, crafts, health talks, and more in the Innisfail Connects monthly schedules, delivered to seniors across town to help them stay in touch with their community.
"We know that our seniors have the greatest needs in healthcare, not only in terms of physical health but also for emotional and social support," says Kathryn Ludwig, Allied Health manager for Alberta Health Services (AHS) in the Central Zone.
"We know we can give them all the physical health support they need, but if they're not connected socially, they will not thrive. Programs like these allow us to connect people, to help seniors in their homes so we can help our community age well."
AHS is only one of many partners contributing to Innisfail Connects. The Community Partners in Action (including AHS, Town of Innisfail, Wolf Creek Primary Care Network and Innisfail Family and Community Support Services) along with the Innisfail Seniors Drop-in Centre, Innisfail Public Library and the Henday Association for Lifelong Learning have come together to make it happen — right down to talking seniors through how to use the Zoom videoconferencing platform.
"Depending on what people are phoning in or videoconferencing for, they will be welcomed to the program and can then listen in or join the conversation from the comfort of home," says Ellen Helgason, an AHS recreational therapist and one of the coordinators of the community partnership.
"It may be strange for some, and it may take a little time to get comfortable or brave enough to make the phone call to see what it's all about, but when they connect, they feel like they're part of something bigger."
For Ernest and Nyna, it's an opportunity to make life normal again. Their pre-COVID schedules had been busy with family and friends, church, square and round dancing, drumming and singing groups, and physical activity. Nyna says being at home more — and doing some of these activities online — has an upside.
"As much as I'd rather it didn't happen, maybe there is an advantage to this COVID business," she says.
"Normally we'd have to rush to get Ernest ready to get him to his exercise program. Now at home (and taking the class by phone) there's less pressure, and as long as he has his runners on, who cares if he's shaved — he can do the whole thing in his pyjamas."