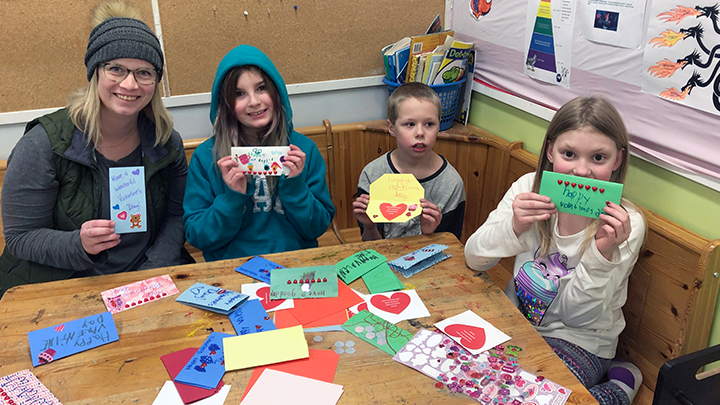 Erica Verhoeven, program coordinator at Stettler Boys and Girls Club, Heartland Youth Centre, make Valentine's Day cards with Lyvia Kelm, left, TJ Kelm and Paighton Barlow.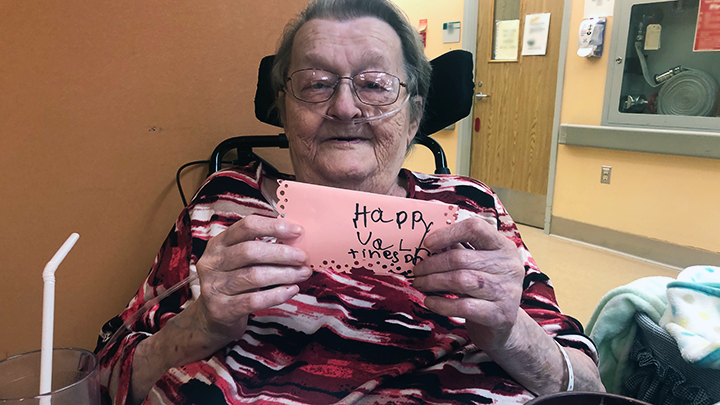 Georgina Boettger, 82, a resident at Heritage House in Stettler Hospital and Care Centre, got her card early and says she's grateful someone thought of her for Valentine's Day.
Handmade Valentine's Day cards bring smiles to patients and residents across Central Zone
Story by Yolanda Genu | Photo by Celeste Reid
Love is in the air this Valentine's Day at hospitals and care centres across Central Zone.
Handmade Valentine's Day cards are en route to residents and patients — to be presented to them with their meals February 14th — thanks to a creative collaboration between Alberta Health Services' Volunteer Resources and Food Services, the Heartland Youth Centre in Stettler, regional school districts, daycares, auxiliaries and friends of hospitals.
The goal all this artistic output is simple — to brighten Cupid's big day and bring smiles to faces.
Children ages 6 to 8 from the Heartland Youth Centre's Kid Power Program say they felt inspired to make cards for the seniors they visited just a couple of months ago, when they dropped by to sing Christmas carols.
"When Celeste Reid (AHS volunteer co-ordinator) reached out to me about making Valentine's Day cards for patients and residents, I knew our group was a perfect match for the project," says Erica Verhoeven, program coordinator of the Stettler Boys and Girls Club, Heartland Youth Centre.
The theme of spreading kindness resonates with children, too — and they were excited to know their works of art will bring joy to card recipients. The youngsters' participation also plays an important role in building a bond of friendship between the generations.
"It's about enhancing patients' and residents' experience — and showing them that we're thinking of them," says Lynn Gray, manager, Volunteer Resources and Spiritual Care, who first raised the idea at a team meeting. Volunteer coordinators at every healthcare site quickly took her suggestion to heart.
"Community service and teaching young children to be kind to others are essential because they may never know what others are going through. To help even in small ways is amazing," adds Verhoeven.
As well, 18 Grade 3 students from Coronation School enjoyed making cards. In fact, some students made more than one, says teacher Katherine Rice.
"We're all part of this community, and we need to be kind and take care of each other," she says. "Looking out for others is what it means to be a good neighbour."