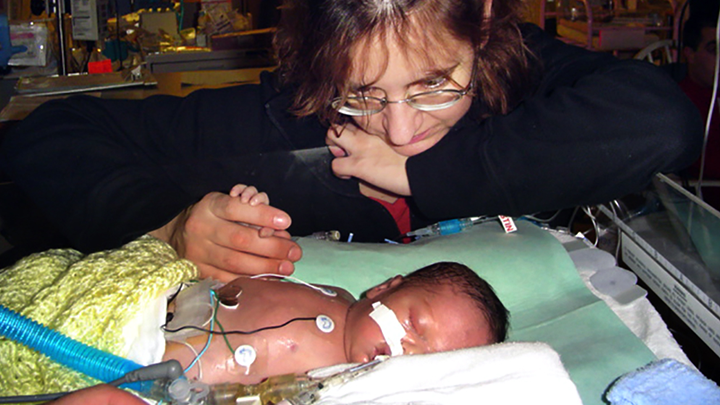 Jennifer Winter watches over her baby Sean in the early days. Their story was featured in the recent Patient and Family Film Festival in Grande Prairie.
Grande Prairie film festival showcases patient and family experiences
Story by Sara Blake
GRANDE PRAIRIE — The healthcare system has been a presence in Sean Winter's life since before he was born. Through it all, his family has been at his side, helping him to defy the odds.
"When we were pregnant with him we were told to expect to lose him," says mom, Jennifer. "And now he's 12. It's pretty astounding that he's even here, it boggles my mind to this day."
Jennifer, like most parents, has shouldered the responsibility of coordinating Sean's appointments along with life's usual logistics — the family farm, children's activities, household responsibilities, nurturing Sean and his four siblings — all while navigating through the complex and emotional unknowns of raising a child with a serious heart condition.
As a mom and a caregiver, Jennifer's focus is usually on her family. It was in her role as a Patient and Family Advisor with Alberta Health Services (AHS) that she began to come to terms with the impact that her son's experience has had on her, personally.
"Every time I tried talking about it or thinking about it I would burst into tears," says Jennifer. "So that's when I realized I really had to deal with some of that. That's when I began addressing the idea of caregiver trauma. That is my story of taking care of Sean."
Jennifer and other volunteer advisors were asked to create digital stories to share their journeys. The poignant videos provide a platform for the storytellers to talk about their experiences with the healthcare system, in their own words — from the perspective of a patient or loved one.
Seeing patients and their families through a broader lens often serves as an eye opening experience for many, including healthcare providers.
"The sharing of these digital stories helps us to see patients and their families in the full context of their lives, outside of the health system," explains Stacy Greening, AHS Senior Operating Officer for Grande Prairie and Addition and Mental Health for the North Zone.
Several of these digital stories were showcased at a special Patient and Family Film Festival in November. Storytellers were on hand to speak about their personal journeys and to introduce their stories. Their goal is to learn from each other's experiences in order to improve and grow, together.
"These digital stories place patients in the context of their wider family, the professional roles they hold, and connection to their larger community," adds Greening. "They bring their hopes for their treatment and their life as a whole to the context of their medical journey."
"Making the digital story was a cathartic process," says Jennifer. "When you see all of that emotion that you've poured out onto the screen affecting a room full of people, it really brings home how important it is to share those stories. You know how it affects you, but you don't necessarily know how it affects other people. It was pretty powerful."
The event was part of Patient and Family Centered Care week, with help from the Queen Elizabeth II Hospital leadership team, AHS Engagement and Patient Experience, AHS Clinical Quality Improvement and the Grande Prairie Regional Hospital Foundation.
"Everyone's story is worth telling," Jennifer adds. "Sometimes your story is a blessing and sometimes your story is of heartache. But everyone can learn from other people's stories."
To see her digital story, It's All Good — Jennifer's Story, and others, visit the AHS' Youtube channel.