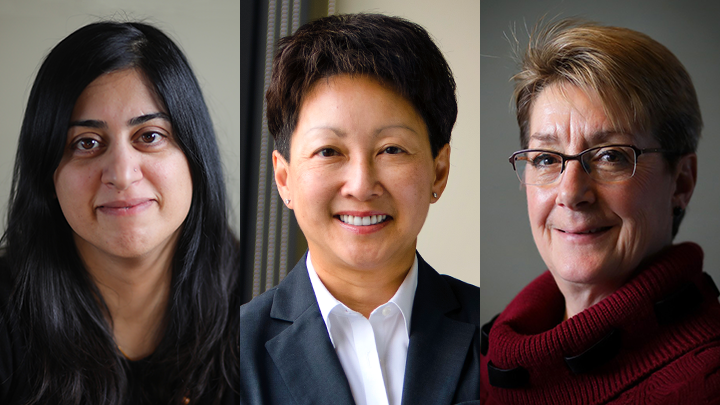 Kiran Pohar Manhas, student fellow, Canadian Institutes of Health Research, left; Dr. Verna Yiu, President & CEO of Alberta Health Services; and Tracy Wasylak, chief program officer with Strategic Clinical Networks.
AHS collaborates in studies to boost scientist workforce in healthcare
Story by Angela Unsworth | Photos by Leah Hennel
Excellence is a value everyone at Alberta Health Services (AHS) strives for daily in seeking new ways to improve healthcare for all Albertans.
This commitment to excellence has led to the work of several senior AHS leaders being highlighted recently in a special issue of Healthcare Policy: Health Services, Management and Policy Research — a publication of the Canadian Institutes of Health Research's Institute of Health Services and Policy Research (CIHR-IHSPR).
The issue — Training for Impact: Modernizing Health Services and Policy Research Training — features collaborative studies with contributions from Dr. Verna Yiu, AHS President and CEO, Tracy Wasylak, chief program officer with Strategic Clinical Networks (SCNs), and Kiran Pohar Manhas, CIHR student fellow.
"The focus of this issue was to explore mentorship opportunities, specifically through the Health System Impact (HSI) Fellowship program, to improve the scientist workforce embedded in healthcare," says Dr. Yiu.
"These opportunities build confidence and prepare them to successfully enter their career path, providing them with the skills they need to directly impact healthcare, and ultimately, improve patients' and families' experiences, right out of the gate."
This research is an innovative step forward in advancing the culture of learning in healthcare.
As well, part of the AHS' philosophy is that 'we achieve great things when we work together'.
This is reflected in the collaborative nature of these studies — and the results they show in relation to the benefit of mentorship connections to strengthen the skills of scientists entering the healthcare workforce — which is seen as essential to improving healthcare across the country.

Research conducted through the support and facilitation of CIHR-IHSPR is peer-reviewed and focuses on areas of strategic importance to all Canadians.
"Through my work with the SCNs, we've seen extraordinary achievements through our collaborative work with the networks, operational leaders, physicians, frontline staff, patients and family advisors, and more," says Wasylak.
"It's exciting to have an opportunity to participate in collaborative work with others in Alberta to support the success of scientists entering the workforce."
Manhas adds: "I was part of the inaugural national cohort of CIHR-funded Health System Impact (HSI) Fellows. From 2017-2019. I was embedded at AHS with Tracy Wasylak, my health-system supervisor.
"Novel health-system endeavours, such as the HSI Fellowship, benefit from consistent, iterative learning. The fellowship was a profound experience for me. But, as a member of the inaugural cohort, it is critical to study the impact of the Fellowship experience to promote its continued availability and success, and to understand the direct benefits to health-systems and their patients.
"I am proud of this team of 16 Fellows for initiating, completing and publishing this study above-and-beyond their fellowship duties. It is an honour to be a part of this Special Issue, with such esteemed colleagues from across Canada, but especially from Alberta."