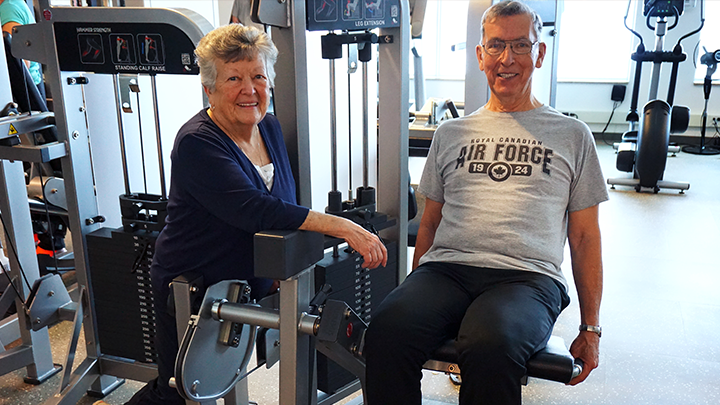 Arnie and Heidi Taylor enjoy a workout at the Christenson Sports & Wellness Centre as part of their Supervised Exercise Program in Rocky Mountain House
Central Alberta couple beats isolation with Supervised Exercise Program
Story and photo by Tracy Kennedy
ROCKY MOUNTAIN HOUSE — A central Alberta couple's workout program has resulted in more than strengthening their bodies — it's also strengthened their social connections.
When Arnie and Heidi Taylor heard about Alberta Health Services' (AHS) Supervised Exercise Program in Rocky Mountain House, they decided to give it a shot to get fit. They were also hoping the classes would meet some additional needs.
"Part of the driving force for me to join was that, in the last year, I'd begun to feel isolated," says Heidi, 80. "Arnie and I thought if we got together with like-minded people that it might reduce that feeling of isolation — and it really did."
AHS offers the six-week program with the help of community partners including the Rocky Mountain House Primary Care Network, which offers learning space and whose doctors refer patients, and the Town of Rocky Mountain House, which offers a modern and well-equipped workout space at the Christenson Sports & Wellness Centre, at no charge to AHS program participants.
At its core, the sessions help participants with diabetes, arthritis, weight management, anxiety, depression or heart issues as it also teaches them skills in cardio, strength training, flexibility and balance.
The goals are to increase movement, decrease pain, delay the progression of chronic conditions, boost mood and enhance quality of life.
And, says Renee Nutall, the program's health educator and exercise specialist, one of the biggest components is building social support.
"That's the piece that makes clients more successful and we build on that. When you come with a spouse or with a friend, you're more likely to be accountable," says Nuttall.
"I put people in pairs, we stretch as a group; we hold a circle before each class and share how our day is going—we really nurture social connection because when people do the program together, that's what keeps them going once the program is done."
The Taylors, who live in the hamlet of Withrow in Clearwater County, were already an active couple. Heidi teaches a painting class, and they both garden and swim regularly. But they wanted to do more to stay in control of their health as they age in place.
"I think we realized that even though we're still in pretty good shape, as we looked down the line, we wanted to keep doing the things we enjoy — such as gardening — and be able to stay in our home longer," says Arnie, 79.
Once the couple joined, their workouts with a few other couples at the gym led to chatting at a coffee shop afterwards.
"It makes you limber and extends your lifespan, but it was the socializing aspect that I found very beneficial," adds Heidi.
Seven of them continue to work out together more than a year after their official sessions ended. The group also celebrates anniversaries and birthdays together, as well as being there for one another when someone needs support or a ride to a medical appointment.
"They really motivated each other and made that plan for when they were done the class to keep that momentum going. A lot of them have had health issues along the way, but they seem to just keep scooping each other up again," says Nuttall.
Heidi knows health issues are just part of the reality of aging, but she appreciates what the program has done for them.
"It's hard to meet people when you get to be our age. Sadly, a lot of people are passing away and you can start to feel closed in unless you reach out," she says.
"This program has allowed us to reach out — and get out — and these people are part of our lives now."