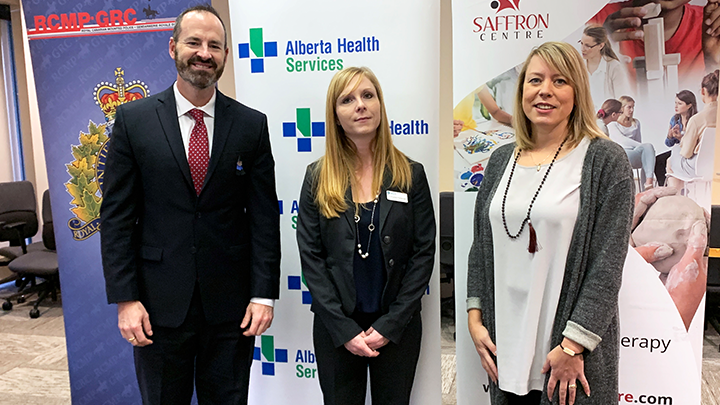 Sgt. Rob Rubuliak, RCMP Serious Crimes Branch, Provincial Investigations, "K" Division, left, Chrystal Ference, AHS Public Health Director in Edmonton Zone and Katie Kitschke, Executive Director, SAFFRON Sexual Assault Centre gathered Dec. 17 to recognize and celebrate the expansion of the Third Option program into Edmonton Zone's rural hospitals and Central Zone's Red Deer Regional Hospital Centre. Through its partnership with RCMP, AHS' sexual assault response teams are able to offer people who experience sexual assault time to heal and process what's happened to them, without having to report to RCMP right away, or at all. Through the program, forensic evidence is collected and anonymously stored for up to a year.
Program gives sex-assault patients time to decide if they wish to report crime
Story & Photo by Kirsten Goruk
Expanding an existing program into rural Edmonton Zone and Red Deer will offer individuals who've been sexually assaulted the chance to process what's happened — without the pressure of having to decide whether to report the attack to police right away.
Through the Third Option program, offered by Alberta Health Services (AHS) and the Alberta RCMP, forensic evidence is collected within seven days of the assault and then stored confidentially for one year, giving sexual-assault patients time to decide if they will report the assault to police.
"We know that the trauma which can be endured during a sexual assault can cause immense psychological distress. For these individuals, trying to decide to report immediately after an assault has occurred often only enhances that distress," says Katie Kitschke, Executive Director of the SAFFRON Sexual Assault Centre.
"With Third Option reporting they are able to take the time they may need, and decide if reporting to the police is the right choice for them. It can be very empowering for survivors to have that choice again."
In Central Zone, the Central Alberta Sexual Assault Response Team (CASART) began offering the program at Red Deer Regional Hospital Centre last March. In Edmonton Zone, Edmonton Police Service has offered this program since 2013 within the City of Edmonton, but the new Alberta RCMP partnership will see it expand to all rural hospitals in the zone in July 2019. This option is also offered at sites throughout Calgary Zone as well as in Lethbridge and Medicine Hat.
"The only people involved with the Third Option decision when a patient comes in is the nurse and the patient. The patient makes that decision, at a time when they probably feel as though perhaps all control has been stripped from them. " says Ronnie Biletsky, CASART & Domestic Violence Coordinator with AHS.
"This is about compassionate care, and allowing patients time to focus on healing first, while preserving important forensic evidence, should they decide in the future that reporting the assault to police is right for them," adds Chrystal Ference, Edmonton Zone Public Health Director.
If the decision is made to report, then the RCMP will assist, with their collected forensic evidence intact.
Assistant Commissioner John Ferguson, Alberta RCMP Provincial Criminal Operations Officer, adds: "From a law-enforcement perspective, allowing victims of sexual assaults the compassionate option as to when they would like to make an official report within the first year works with our mandate to secure evidence for any potential investigations."