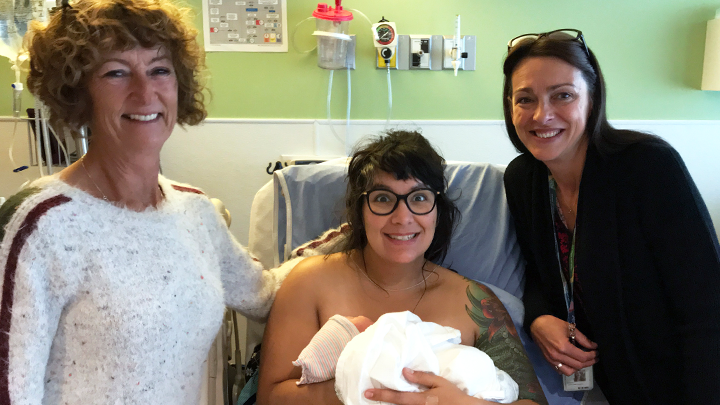 Darlene Welsh, right, a quality consultant with the Northern Lights Regional Health Centre in Fort McMurray, enjoyed her visit with Lauren Gurrero, her baby Rowan and Linda Gurrero during Leader Rounding in early October.
Fort Mac first to use analytics software to spot quality-improvement opportunities
Story by Logan Clow
FORT McMURRAY — Northern Lights Regional Health Centre (NLRHC) staff have become the first at Alberta Health Services (AHS) to have their Leader Rounding data and feedback available on Tableau — a software tool that makes it easier for site managers and leaders to track quality improvement and patient feedback as well as to identify strengths and weaknesses.
During Leader Rounding — conducted monthly by this Fort McMurray site since 2017 — Jordanna Lambert, director of patient care, and Darlene Welsh, quality consultant, meet with hospital patients and their families to better understand their hospital experiences.
"It's really purposeful for us because we get the opportunity to reinforce the patient and family-centred culture, and learn about opportunities for improvement from our patients and families in the moment," says Lambert.
"Our goal is to understand what matters to patients and their families, and then use this information to enhance and improve patient satisfaction and the patient care experience. By better understanding the care journey and experience of our patients and their families, we can start identifying what is working well and what we can improve upon."
Previously, Leader Rounding feedback was compiled into a Word document, but site staff found the method impractical. So Welsh and Lambert began working with AHS' Analytics (Data Integration Measurement and Reporting / DIMR) team earlier this year to digitalize the data and feedback.
While Leader Rounding is conducted at other AHS sites, Welsh says the NLRHC is the first site — a pilot project at this point — to use Tableau technology to track the quality-improvement opportunities identified during their rounds.
"The data and feedback we enter is categorized among different themes, which makes it so user-friendly," says Welsh. "Leaders and managers can easily access and track data in a collated, graphic format."
During Leader Rounding, Lambert and Welsh randomly select a unit to visit. They don't rely upon a structured script; their conversations and questions are guided by patients' feedback.
"Oftentimes, patients and families are asked what matters to them, what is the most important to them in their care, how their care has been so far, if they have any questions or concerns, if they want to recognize any staff for doing a great job and if they have any suggestions for improvement," adds Welsh.
Welsh says site leadership and managers are receptive to patient feedback. For example, the hospital added Halal menu items to its patient food services menu earlier this year as a result of patient feedback.
In some cases, more immediate action is taken. For instance, a few patients in the Emergency Department once requested additional pillows and blankets.
"We quickly made sure those patients had additional blankets and pillows. It's important our patients feel comfortable while they receive the care they need here," says Welsh.
"We always look forward to doing Leader Rounding," adds Lambert. "It really supports our organizational goals of putting patients and families experience first.
"Ultimately, we want to make sure we're providing excellent patient care — and one way to do that is listening to our patients and their families."