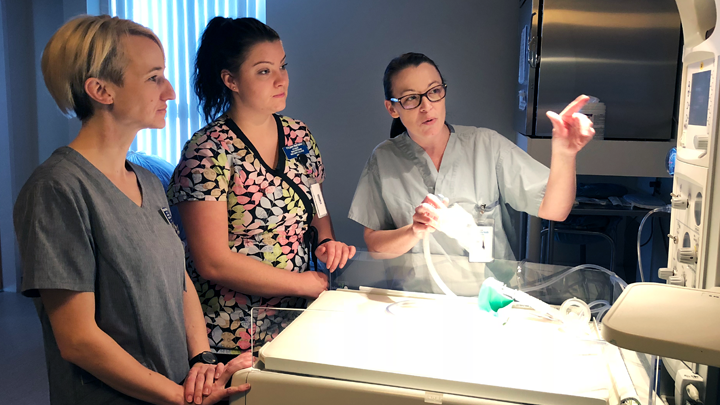 Melissa Sigfusson, left, and Tyleah Paetkau — both Red Deer College nursing students — embrace the challenges and rewards of rural nursing during their practicum at Rocky Mountain House Health Centre while RN Jessica Moncrieff, right, shares some tips.
Red Deer College, AHS partner in practicum program to promote rural nursing
Story by Yolanda Genu
ROCKY MOUNTAIN HOUSE — For Sarah Couve de Murville, having the opportunity to gain nursing experience on the frontlines at her local hospital came as an affirmation that her career path is heading in the right direction.
Thanks to a partnership between Alberta Health Services (AHS) and Red Deer College (RDC), third-year Bachelor of Science Nursing students have the opportunity to learn about the challenges and extraordinary rewards of rural nursing through practicum placements — like the one Couve de Murville completed this past February at Rocky Mountain House Health Centre (RMHHC).
"It was amazing to apply our knowledge and work within a successful team," says Couve de Murville, a longtime Rocky resident. Having grown up here, she's proud to join the healthcare team at RMHHC.
Since 2009, the hospital has offered practicum opportunities to students three times a year, for six weeks at a time. Students gain valuable experience in a rural healthcare setting and are encouraged to spend time with patients and ask for feedback.
In turn, hospital team leaders get to showcase the variety of opportunities a rural setting offers future healthcare providers.
"The practicum assists rural health centres like RMHHC overcome recruiting and retention challenges while helping students embrace diverse healthcare work," says Shirley Hope, site manager.
"And they can work at any AHS site after graduation, though we hope they'll stay with us here."
Red Deer College students, throughout their four-year Bachelor of Science in Nursing program, participate in a variety of practicums and, when possible, choose their placements. Students seeking permanent positions at rural sites move a step closer to their goal through the knowledge they gain in their practicum.
For the college, the practicum partnership is successful because students receive excellent nursing experience and feel empowered.
"The nurses' willingness to teach and support RDC students is fundamental to developing competent and compassionate new nurse graduates," says Jean Smith, nursing instructor at RDC. "Students spend their first six weeks in rural acute care, followed by another six weeks in a community placement or vice versa.
"The objective is for them to learn about rural living, what it means for patients and their healthcare. Through our partnership with RMHHC, we're able to do that."
Like her classmates, Couve de Murville agrees.
"The staff were always so kind and welcoming; I couldn't ask for a better hospital to learn in," says Keziah Barnes Armstrong, who speaks highly of the support she received from nursing staff who shared their knowledge and kindness with her in a fast-paced environment. "They're all wonderful, and I hope to work with them again in the future."
A third student, Laura Shapka, adds: "I have completed multiple clinical experiences in a variety of settings throughout the Central Zone, including in Rocky Mountain House. The staff and physicians here played a significant role in the development of our careers, and for that, I will be forever grateful."