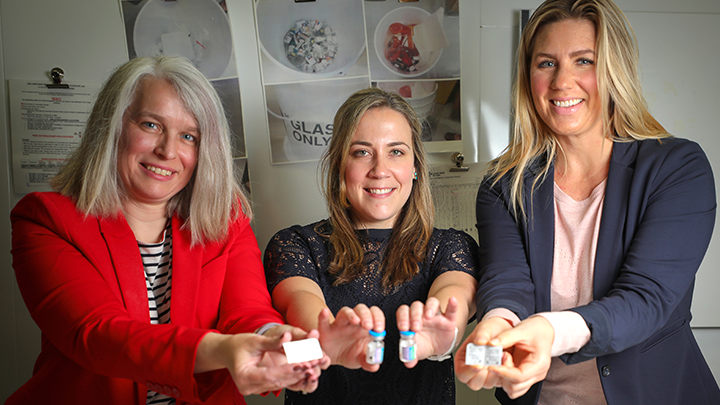 Dr. Ouida Antle, left, Ashley Kenny and Julie Meyer compared patient outcomes when anti-nausea medication is provided around the clock after surgery versus on-demand.
Research Challenge team weighs approaches, sees study published
Story by Greg Harris | Photo by Leah Hennel
CALGARY — If you've ever experienced nausea after surgery, or seen a loved one go through it, you can understand the value in trying to prevent it.
Preventing nausea not only keeps patients more comfortable, it also gets them back on their feet faster, speeds their recovery and reduces their length of stay in hospital.
A team of Alberta Health Services researchers in Calgary has found, however, that there's little difference in patients' experience whether they automatically receive the anti-nausea medication Ondansetron around the clock after surgery, or instead take it as needed.
"It's an important finding because we never want to give people drugs unnecessarily," says Dr. Ouida Antle an AHS pharmacist at Foothills Medical Centre who led the research study.
"There is a risk of adverse drug reactions, and even though it's a medication that's well-tolerated, it does have minor side effects, such as constipation and headaches."
Antle and her research colleagues Ashley Kenny and Julie Meyer — who were among the 2016 cohort of AHS Research Challenge participants — recently published their study in the Canadian Journal of Hospital Pharmacy.
The team investigating post-operative nausea looked at 132 patient charts of individuals who underwent hip or knee replacements at Foothills Medical Centre in 2016.
"The hope was that if we could protect patients from nausea they'd get up faster and leave hospital sooner, but we found that their mobility and nausea weren't impacted either way," says Meyer, a clinical nurse educator and now unit manager of the Foothills Medical Centre Emergency Department.
Automatically giving patients an anti-nauseant also bears hidden costs in the time it takes for the pharmacy to prepare the order and for the nurses to administer it.
"It's important to always be trying to improve the patient's stay in hospital, but in this case a change of practice that seemed like a good idea didn't turn out to be the case," adds Kenny, also a clinical nurse educator. The standard of care around anti-nauseant medication for hip- and knee-replacement patients has since reverted to providing it on-demand.
Aside from the publishing credit, team members have also presented their findings to surgical teams and at conferences in Calgary and Red Deer.
All three say participating in the Research Challenge was an invaluable experience and they would recommend it to anyone interested in a supported research experience.
The Research Challenge first ran in 2016, then 2017, and now 2019. Once a Research Challenge has been issued, interested applicants submit a letter of intent outlining their project proposal. Letters of intent are ranked by a review committee using a common scale. It's expected the next call for applications will go out in spring 2020.
Dr. Luciana G. Macedo, a researcher formerly with the University of Alberta and now with McMaster University, served as the team's faculty mentor.