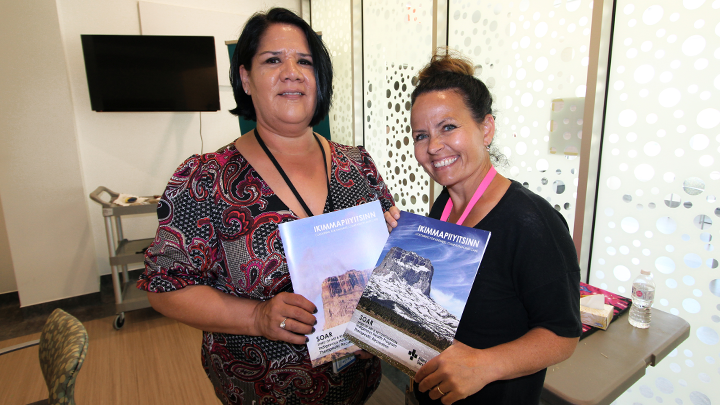 Suzan Heavyshields, Indigenous health liaison, left, and Heidi Davis, recreation therapist, share copies of SOAR's colouring book.
Colouring-book project helps patients feel more comfortable
Story & Photo by Sherri Gallant
LETHBRIDGE — Stress is, perhaps, an undeniable part of going to the emergency department (ED) during a health crisis.
With this in mind, leaders of the Spirit of Art and Reconciliation (SOAR) program at Chinook Regional Hospital (CRH) have created a way to help patients — especially youngsters — feel more at ease. For the past year, crayons and an original colouring book have been made available to children — and sometimes adults — in the ED and other units.
"They're kept in the ED at the Protective Services office. As well, the Indigenous hospital liaisons and traditional wellness coordinator keep copies of them on hand to share throughout the hospital," says Heidi Davis, a South Zone recreation therapist and co-creator of SOAR.
Through weekly meetings in the hospital's Ceremony Room, SOAR delivers expressive art programming with an Indigenous focus, thanks to a partnership between Indigenous Health and Therapeutic Recreation.
SOAR enlisted the help of students in the Blackfoot Ways of Knowing program at Winston Churchill High School to create the artwork for the book's pages. Blackfoot Ways of Knowing uses nature and its relationships with the land and people as a vehicle for students to express, through art, their own connections to nature.
"Part of the strategy in creating the book was an effort to create a welcoming, culturally-safe environment, but also to address very serious health concerns such as suicide prevention and the opioid crisis," says Davis.
"So thinking of ways to engage both children and adults with an activity that can be relaxing, mindful and reduce stress was needed. It's a small thing, but it can be powerful and is very accessible for people. During a crisis, families often gather. Engaging family is an important part of a patient's journey.
"The colouring book was part of the initial planning, when we created the art program, to address the gaps in health outcomes for Indigenous people as well as to create culturally-safe environments for our Indigenous people. We involved some of our patients in naming the colouring book."
The book cover features an image of Chief Mountain and is titled Ikimmapiiyitsinn; a Blackfoot word that means compassion.
A practicum student from the Therapeutic Recreation program at Lethbridge College assisted in the layout and design. Davis says the team hopes to add new volumes over time to showcase unique areas of the province.
Feedback has been positive.
"A gesture as simple as giving a colouring book can be the difference between somebody having a positive experience or not," Davis adds.
"Children are excited to receive them and adults have also enjoyed colouring them. A few of the pages inside the book have journaling prompts included, so there's an opportunity to reflect or express oneself."