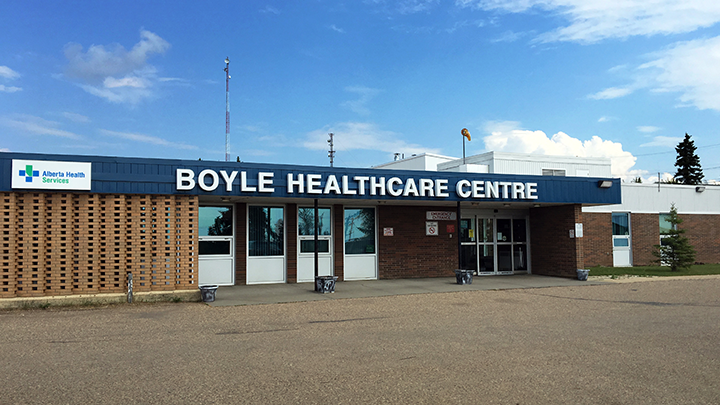 In addition to the new patio, HVAC plant and generator, the $7.2-million renovation project for Boyle Healthcare Centre included upgrades to its roof and fire-alarm system.
Building upgrades include new patio and generator
Story by Amy Crofts
BOYLE — Residents of Boyle and surrounding communities are noticing upgrades to their local healthcare centre — and even more changes happening behind the scenes.
The most recent renovations to Boyle Healthcare Centre include an enclosed patio as well as a new heating, ventilation and air conditioning (HVAC) plant and generator. The new HVAC plant is improving ventilation and air conditioning inside the facility, which patients and staff will especially notice this summer.
"These upgrades not only ensure patient and staff safety, but enhance comfort for everyone, including visitors," says Mary Proskie, site manager for the centre, which opened in 1966.
"These important renovations will help ensure Alberta Health Services (AHS) is not only meeting the needs of patients now, but for years to come."
Upgrades got underway January 2019, which led to temporary closures and relocation of services — although the Emergency Department remained open throughout construction. The new HVAC plant along with upgrades to the fire alarm system cost about $6.2 million. An additional $963,000 was spent on replacing the facility's aging roof. Funding for these projects came from the Government of Alberta's Infrastructure Maintenance Program.
"Getting to this point has taken a lot of time and hard work," says Cindy Harmata, Senior Operating Officer, AHS North Zone Rural Health East. "We want to express our sincerest thanks and appreciation to patients, families and staff for their patience and flexibility throughout construction."
In addition to improved infrastructure, esthetic changes include refreshed patient-care rooms with a fresh coat of paint and newly waxed floors. Additional landscaping is also adding beauty to the centre's grounds.
The enclosed patio, to be completed soon, is made possible by a $181,000 donation from Boyle Healthcare Centre Auxiliary.
"We're so excited for the patio to be open just in time for summer," says Donna Larson, one of the three founding members of the auxiliary. "It will be a wonderful, tranquil space where patients, their families and staff can sit, visit and enjoy nature."
Since 2001, the auxiliary, which now has 17 members, has raised more than $300,000 for much-needed healthcare items and supports. The auxiliary recently helped refresh the healthcare centre's waiting room with a new television, new chairs and children's toys.
"The Boyle Healthcare Centre Auxiliary members have been working to improve the quality of care in our community for many years. We are so thankful for their dedication and the generosity of donors," says Proskie.
"This is truly a community hospital, supported by the community, to serve the community."