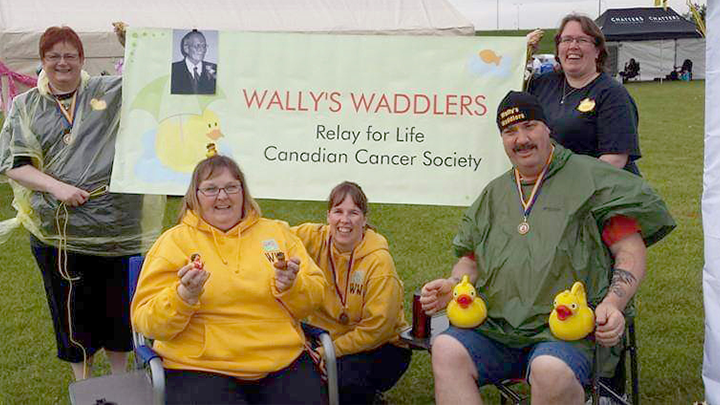 Erin Fingler's team, Wally's Waddlers, are marking their 10th year participating in Relay for Life. Each year, they participate in honour of Fingler's dad, Walt, who lost his battle with cancer in 2005. From left are: Ann Markle, Brenda Nicholson, Diane Spoor, Blair Markle and Erin Fingler.
Erin Fingler honours dad through 10 years of Relay for Life
Story by Amelia Schofield
RED DEER — When Erin Fingler's dad died of cancer, she knew she wanted to do something to remember him. That desire to honour him motivated her and her family to begin participating in the Canadian Cancer Society's Relay for Life. Their team, Wally's Waddlers, is now celebrating 10 years taking part in the event.
"My dad, Walt, passed away in 2005 and I was looking for something to do to remember him and then I heard about Relay from a friend who was doing it," says Fingler, a pharmacy technician with Alberta Health Services (AHS). "My hometown, Rocky Mountain House, was hosting Relay that year, so on a whim, I decided that my family and I should do it."
Relay for Life is a fundraising event which brings together communities across Canada in support of individuals and families impacted by cancer. For the past several years, Fingler and her family have participated in the Red Deer event, which takes place this year on June 15.
Fingler adds that participating in Relay has become a family tradition.
"We have our four core team members, which are my aunt, my uncle, my sister and I. My mom hasn't officially joined the team, but she's always fundraising in the background. And then there's several team members that have come and gone throughout the years."
In the team's first year, they successfully raised $2,500 and have since grown their fundraising goal to $14,000 this year. Once accomplished, the team will have raised $100,000 toward cancer research and prevention.
Fingler shares her personal goal this year is $5,000. If she accomplishes it, she plans on shaving her head and donating her hair.
"My hair is 21 inches long from the base. I've been growing it for six years in anticipation of our 10-year anniversary," she adds. "If I achieve my $5,000 goal, I'm donating my hair to Angel Hair for Kids, which does real hair wigs for kids."
According to Fingler, Wally's Waddlers mainly raises funds through donations and events they host.
"This year, we did two paint-pour events, we did a pottery painting fundraising, we did two scarf-marbling events, and we're doing two fundraisers with Blaze Pizza in Red Deer and Calgary," she says. "It's kept us very busy this year. We're really pushing for the $14,000!"
In addition to honouring her dad, Fingler shares that supporting Relay for Life is also about the impact it has on other individuals and families.
"The Canadian Cancer Society does so much to support those with cancer, and pretty much everyone you know has been affected by cancer in some way, shape or form. I think it's just a great organization to support."
Learn more about Wally's Waddlers and how to help them reach their Relay for Life goal.