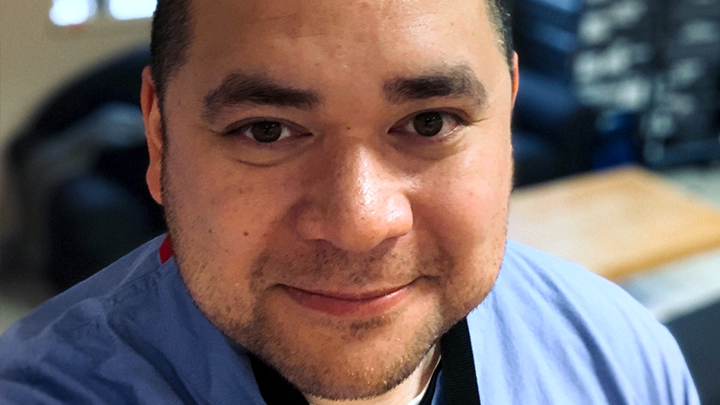 Celebrated physician uses storytelling, experiences to advance Indigenous medicine
Story by Logan Clow
GRANDE PRAIRIE — The way biases can affect patient care is an important conversation to have, according to Dr. Alika Lafontaine, a celebrated Indigenous physician of Cree and Anishinaabe descent.
Lafontaine uses storytelling, patient encounters and personal experiences at speaking engagements across Canada to show how addressing biases can improve the health of First Nations, Metis and Inuit peoples. At home in Grande Prairie, he's an Alberta Health Services (AHS) anesthesiologist at Queen Elizabeth II (QEII) Hospital.
"We all have these biases that we've grown up with. Some of them come from experiences that we've had as kids, or things we've inherited from our parents or people we've looked up to as mentors," he says. "Biases in and of themselves don't necessarily make you a bad person. It's when you apply them mindlessly that you do bad things. It's the mindlessness that really leads to the harm.
"It's when we apply the biases that exclude and prevent people from getting full spectrums of care, or use our biases to inform decision-making instead of asking questions or getting actual data to support the things we believe — those are the times biases are really harmful."
Lafontaine, who's been with AHS for eight years, has garnered multiple accolades: Indspire Award – Youth (1999); Canada's Next Great Prime Minister competition (2008); first Indigenous physician listed by the Medical Post as one of Canada's 50 Most Powerful Doctors (2015); Canadian Medical Association Young Leaders Award – Early Career (2015); winner of the Great Canadian Healthcare Debate (2016); and recipient of the Public Policy Forum's Emerging Indigenous Leader Award in 2017 from Prime Minister Justin Trudeau.
Lafontaine says he's humbled by the recognition, but notes the work is far from over.
"I think people are more open to talking about biases. People are more willing to be more introspective. I think we're learning more and more that biases can't really be trained out of people. All we can do is have people be aware of them and reflect on them," he says.
"It really starts with inclusion and creating spaces where people feel comfortable expressing different views and reflecting on their biases. I think one of the things AHS is being more effective at is creating these moments where people can reflect on their biases in a safe space. It's tough for people who grew up thinking about things a certain way, and then to sit back and realize the way of their thinking was harmful."
Lafontaine is also involved with the Royal College of Physicians and Surgeons, Canadian Medical Association Journal, HealthCareCAN, Alignment by Design and the First Nations University of Canada, to name a few interests. He's also a board member with the Gord Downie & Chanie Wenjack Fund and the Canadian Children's Literacy Foundation.
Lafontaine also spearheaded the Indigenous Health Alliance — a 2013-2017 project that ran in collaboration with three Indigenous Territorial organizations in Saskatchewan. The project, created in response to the Truth and Reconciliation Commission, sought to eliminate the differences in quality of care between Indigenous and non-Indigenous patients.
Within AHS, Lafontaine is also involved in the launch of the North Zone Indigenous Cultural Safety Work Plan. The plan's goal is to create a safe and inclusive work environment for the zone's Indigenous workforce, improve health outcomes and increase healthcare satisfaction for the Indigenous population. Work began on the plan in January 2018.
"The plan ensures that AHS continues to focus on the patient experience and making sure that we educate our frontline workers with the framework to reflect on their biases," adds Lafontaine.
"The plan also signals to Indigenous patients that it's time for a change to happen and AHS wants to co-design a way forward with you. I'm incredibly excited about the plan and I think it will make a major impact."