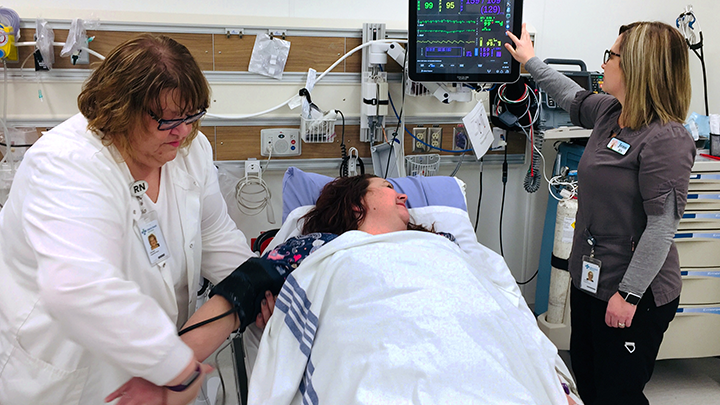 Wainwright and District Health Foundation funds state-of-the-art equipment
Story by Amelia Schofield
WAINWRIGHT — Residents of Wainwright and surrounding areas are benefitting from a newly renovated emergency department at the Wainwright Health Centre thanks to the Wainwright and District Community Health Foundation.
The recently completed renovations added a second trauma room, three larger examination rooms and a dedicated procedure room for casting and day procedures. As well, it doubled the size of the patient waiting area and expanded storage space for supplies and equipment.
"With this renovation, we received some amazing equipment which has made our job easier and, I believe, has made patient monitoring a much-higher quality," says Glenda Volk, a Registered Nurse who has more than 30 years of experience at the Wainwright Health Centre. "All of the additions have been very valuable."
With donor support, the Foundation funded several pieces of equipment for the department including a biomedical refrigerator, a floor lift, several temporal thermometers, a portable ventilator, supply and procedural carts, and Space Labs cardiac monitoring.
For Registered Nurse Jennifer Bethge, the Space Labs cardiac monitoring in particular has been a welcome addition.
"That was one of the biggest things," she says. "We now have the ability to hook our patients up to the monitors, (an alarm goes off) with certain events and we can monitor the patient's cardiac tracing (ECG) from the main desk, including their heart rate, blood pressure and oxygen saturation."
According to Bill Lawson, chair of the Wainwright and District Community Health Foundation, buying the equipment would not have been possible without generous community support.
"There are individuals who just realize the importance of the equipment we're putting in the hospital and there are a lot of individual people who give large donations toward this, as well as companies that want to better the region for their workers."
For Bethge, the support is vital to the care her and her team provides.
"We wouldn't have the things that we have without the foundation and their ability to fundraise. They truly care about our community and that's why we need to let people know what they do for us and support them as they've supported us," she says.
Volk adds that the time and dedication demonstrated by the foundation is deeply appreciated.
"They work tirelessly to raise money for this hospital and their community," she says. "It's a lot of the same people who have been involved right from the start, and they keep coming out every year and they keep working hard for us — and I just want them to know that I appreciate all their efforts."
For more information on how to support the Wainwright and District Community Health Foundation, please visit wdchf.com. Visit ahs.ca/give for a full list of Alberta's health foundations.