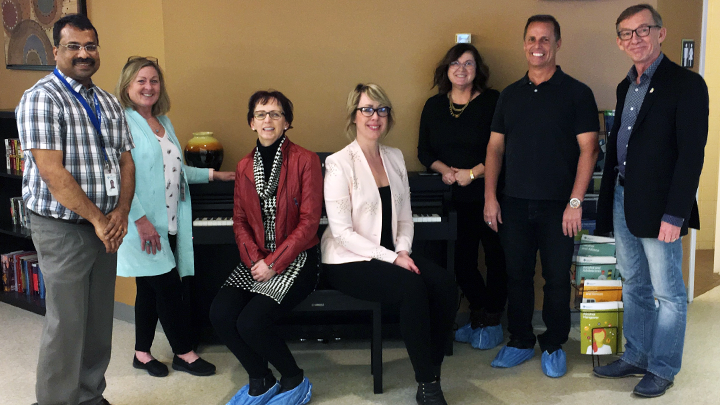 New pianos add to music therapy at Fort McMurray Recovery Centre
Story & photo by Logan Clow
FORT McMURRAY — Tickling the ivories is now an option when it comes to musical therapy at the Fort McMurray Recovery Centre, thanks to two new pianos made possible by a generous donation from the Suncor Energy Foundation to the Northern Lights Health Foundation (NLHF).
Clients can now pull up a bench to enjoy the digital pianos as they access programs and services at the Alberta Health Services (AHS) facility. They're the latest instruments to be added to the Recovery Centre's new Music Therapy Program, which also offers a guitar, two maracas and a drum.
"Music has the ability to improve our well-being. It can bring a renewed meaning and connection to our lives. We hope that these additions provide positive therapeutic experiences for our clients," says Thomas Kannumkulabil, manager, Addictions and Mental Health, Fort McMurray.

"We know that our clients are experiencing different feelings and emotions. We also know that music has the ability to decrease agitation and restlessness, calm chaotic brain activity, and increase and improve our concentration and mood. These pianos have the ability to improve our clients' overall health and wellness."
The pianos, which arrived in late December, have been set up in the main lobby.
"For clients who don't know how to play the piano, but would like to learn, we have instructional books that cover the very basics that they can use to teach themselves," adds Kannumkulabil. "We also have an assortment of sheet music for clients who are more experienced playing the piano."
Plans for the pianos include the introduction of structured lessons for clients, and the creation of opportunities for local musicians to perform at the facility.
"Playing the piano is an optional activity at the moment for clients. We also offer a variety of other activities here during non-programming time, such as board games, art supplies, puzzles, sports equipment, gym equipment, books and DVDs."
The Fort McMurray Recovery Centre, located at 451 Sakitawaw Trail, offers treatment programs for adults with addiction issues, including a 28-day Residential Treatment Program, two-week Day Treatment Program and Opioid Dependency Clinic.
The Willow Square Continuing Care Centre in Fort McMurray will also receive three digital pianos once it opens in 2020. All five music therapy digital pianos were donated to the Health Foundation through a Suncor Energy Foundation 20th anniversary gift of $20,000.
"The Suncor Energy Foundation is an enduring, thoughtful, and generous donor to the Northern Lights Health Foundation," says Cindy Amerongen, foundation executive director. "Together we are working to support AHS in our region to provide great healthcare."
Kannumkulabil adds: "We're extremely grateful to the Northern Lights Health Foundation and Suncor. We can't thank them both enough for their generous support."