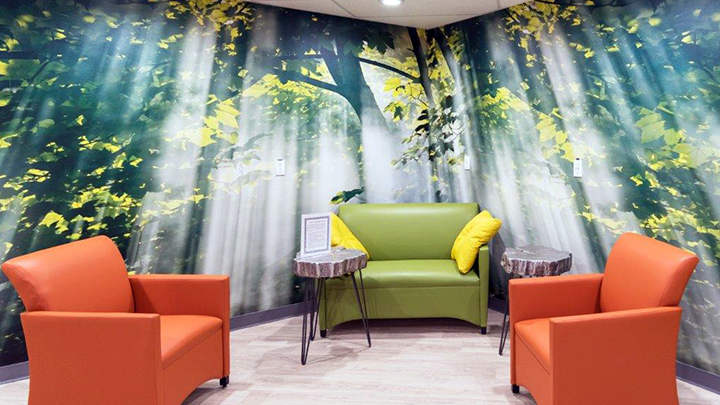 Reflection and Renewal Centre at Glenrose brings spirituality into the healthcare journey
Story by Vanessa Gomez | Photo by Raylene Pearson
EDMONTON — Patients, families, staff and volunteers at the Glenrose Rehabilitation Hospital now have a peaceful, tranquil space for meditation, reflection, quiet time and prayer.
The Reflection and Renewal Centre accommodates people of all backgrounds and faiths to bring spirituality, as well as a soothing connection with light and nature, into their healthcare journey.

"In times of significant illness, change or loss, many people require more than just physical care to help them cope with challenging circumstances," says Isabel Henderson, Senior Operating Officer for the Glenrose. "As healthcare leaders we have recognized that we must seek to nurture the soul just as much as we seek to heal the body."
Through the generosity of donors, the Glenrose Rehabilitation Hospital Foundation was able to refurbish a former meeting room into a space that welcomes all. The décor of the centre's exterior wall includes engravings of doves, as symbols of peace. Within, its warm, inviting décor features a nature-inspired mural designed to elicit a connection to light, and to convey a sense of hope.
The centre also offers an ablution room, for cleansing prior to prayer, and instruction for Qibla (the direction that should be faced when a Muslim prays). Meditative literature, religious artifacts and prayer mats are also on hand, while Bluetooth speakers allow visitors to pair their smartphones to listen to music and more.
Formally opened on Nov. 15, the centre was created in response to an organizational-wide effort by Alberta Health Services to achieve more social cohesion in the face of the province's growing diversity. In fact, growing numbers of facilities around the globe now recognize the need for such spaces and the worth of spiritual care.
"There are a lot of struggles people go through, especially when they're experiencing a difficult transition or crisis," says Wilson Miranda, Spiritual Health Practitioner for the Glenrose.
"Patient-centred care is not just about their physical well-being, but it also encompasses emotional, psychological and spiritual health. As a spiritual health practitioner, I help individuals to look at their own inner and outer spiritual and emotional resources. In doing so, they are empowered to explore what helps them in their healing journey."
Staff also benefit from being able to connect with their spirituality in the workplace.
"Staff too, need a place to reflect, rejuvenate or to pray," says Henderson. "They need a space to reconnect, restore and re-engage the spirit — separate from patients and their families."
"We want to cater to people of all backgrounds – whether they consider themselves spiritual and religious or spiritual and not religious," says Miranda.
"We want to give them something that would uplift their spirits as they continue their recovery here at the Glenrose."