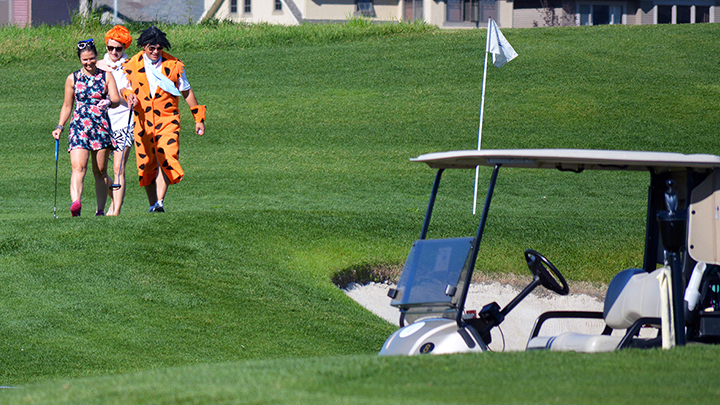 'Hearts vs. Minds' funds Foothills projects through Calgary Health Trust
Story by Amelia Schofield; photo supplied
CALGARY — For Jason Knox, healthcare is a profession rooted in giving and supporting one another.
"My overarching philosophy in healthcare is one of giving," says Knox, manager of Tertiary Neuro Rehabilitation at Foothills Medical Centre (FMC). "From a leadership perspective, we know that our staff are always working hard and are so giving of themselves for the benefit of our patients. It's our responsibility, then, to give back to our staff and create opportunities for them to celebrate what they do."
Because of this, Jason and Michael Suddes, FMC site director, wanted to design a staff event away from work — while also finding a way for staff to give back in support of their own programs and services. To this end, the duo established a Foothills interdepartmental committee in 2010 and set about planning an annual golf fundraiser.
Now held each July, the annual fundraiser is called the Hearts vs. Minds Charity Golf Tournament, and includes a fun day of golf, costumes, dinner and contests in support of Calgary Health Trust. Money raised through the event supports equipment, education and resources at FMC.
"We wanted to create an opportunity for networking and partnership among all of our staff, physicians, individuals and the agencies we work with across the continuum of care while raising money as employees to help support the growth of our programs," adds Knox.
The tournament's name stems from a desire to create some healthy fundraising competition between the departments of Clinical Neurosciences and Cardiac Sciences.
"Many of us were interested in golf and in pulling all of our staff together to do something fun while raising money, so we thought we would do a fundraising competition," he says. "One of the other large departments in our hospital is Cardiac Sciences, and sometimes we even care for the same patients, so we wanted to involve them."
Knox's philosophy of giving keeps him motivated each year for this event — and he urges other healthcare providers to consider this if they're thinking of similar initiatives for their areas.
"I would encourage others to recognize that we all went into healthcare to help people, and to think broadly about all the different opportunities to fulfill that mission in life of helping others."
He advises anyone who wishes to raise funds in a similar way to discover their shared passion — and then pursue it.
"I think if you know that you get satisfaction from giving and helping — and you find a way to match your passions and common interests with a group of people — you'll experience great success and reward running any type of event," he says. "When you are passionate and having fun, others will also be motivated and inspired to join you, making your succession plan for committee members and annual event sustainable year after year."
Golf proceeds will be donated to the Calgary Health Trust in support of Clinical Neuroscience and Cardiac units at FMC. Funds will be used for equipment, education and resources to maintain a safe, comfortable and caring environment for patients and their families.
The 8th annual Heart vs. Minds Charity Golf Tournament in support of Calgary Health Trust will take place July 24 at Blue Devil Golf Club in Calgary. Visit ahs.ca/give for a full list of Alberta's health foundations.