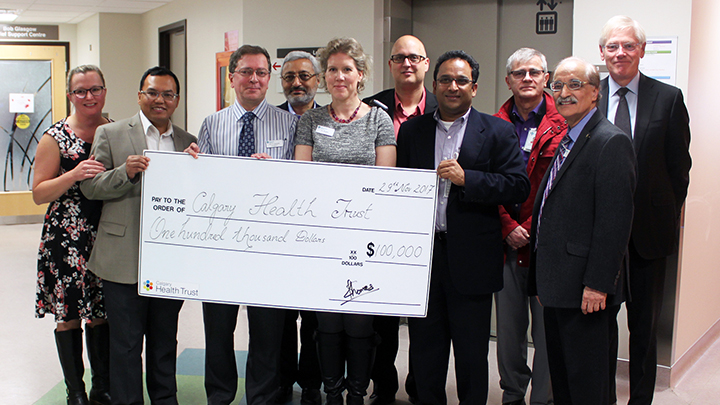 Babies to benefit as Dr. Sumesh Thomas and neonatologists rally to support Calgary Health Trust
Story by Amelia Schofield; photo supplied
CALGARY — The Neonatal Intensive Care Unit (NICU) at Foothills Medical Centre sees high-risk babies who need close monitoring and support after birth. As the site lead for neonatology here, Dr. Sumesh Thomas and his team of neonatologists care for many of the smallest, sickest babies throughout southern Alberta, parts of Saskatchewan and southeast British Columbia.
"The Foothills is pivotal for delivering optimum care to the smallest and sickest of patients in the area and ensures babies leaving the unit do so in the best possible condition," says Dr. Thomas.
In the coming years, the NICU will undergo a complete renovation — designed to double its current capacity and provide a new, state-of-the-art space for patients and their families — with funds from the Calgary Health Trust.
To demonstrate their commitment to the cause, Dr. Thomas and the neonatologist team at the Foothills recently joined together to raise $100,000 in support of this redevelopment project.
"The contribution was to be seen as a gesture of our firm commitment to the people of Alberta, the Calgary Health Trust and AHS to ensure that the very best of contemporary neonatal practices and infrastructure are brought to Calgary," says Dr. Thomas. "This is our job and we want to do it as best as we possibly can"
The NICU redevelopment is all about providing optimal outcomes for patients, he adds.
"Our hope is that any baby accessing our facility gets the highest level of care and not only survives, but survives with outcomes for a long, fulfilling life."
For Dr. Thomas and his team, their gift is also about showing their community that healthcare providers stand behind this project — and that it's an important cause worthy of support.
"It's a very powerful statement to make. It shows our commitment to the foundation and most importantly, to the people who donate to make these things happen."
If you would like more information on how to support the Calgary Health Trust, please visit calgaryhealthtrust.ca. Visit ahs.ca/give for a full list of Alberta's health foundations.