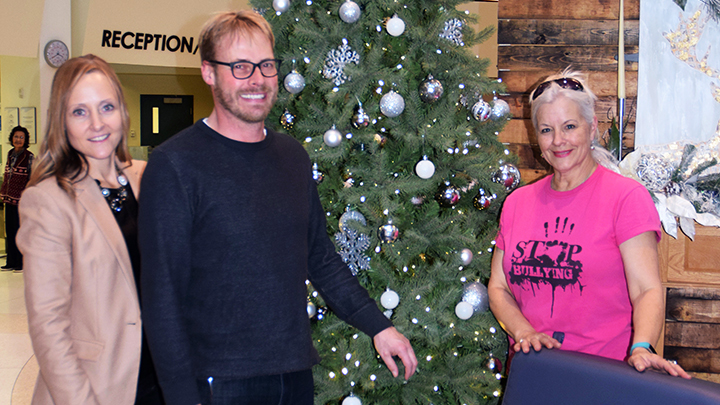 Foundation funds support families, patient-care team
Story by Amy Crofts
Patients and families in La Crete, High Level and Fort Vermillion now enjoy more comfort during their hospital stay thanks to their local hospital foundation.
Alberta Health Services (AHS) recently partnered with the Northwest Health Foundation to place new sleeper chairs in every patient room at the La Crete Community Health Centre, the Northwest Health Centre in High Level and the St. Theresa General Hospital in Fort Vermilion.
Sleeper chairs are larger lounge chairs that transform into beds. Together, these three communities now have a total of 39 sleeper chairs. They replace a small number of older model chairs that were used on a "first-come-first-serve" basis in the past.
The chairs are already making a positive difference in the patient experience, says Angie Mann, North Zone Director of Clinical Operations, Area 1.
"Patient-centred care is our focus. We encourage family members to stay with their loved ones and work together alongside the patient's care team," says Mann.
"There could be, for example, a language barrier that the family member could assist us with. Having them stay in the hospital supports our goal of patient-centred care."
The chairs are also great for new fathers after their baby arrives, adds Sylvia Kennedy, Chair of the Northwest Health Foundation. The foundation raised $110,000 towards the new sleeper chairs over the past year.
"Having these chairs in the post-delivery rooms is great. They actually roll out in to a complete bed, so dad gets a good night's sleep. They have made a huge impact in the region."
In June 2017, AHS released its provincewide Visitation with a Family Presence Focus policy to further promote and encourage the involvement of family members during patient stays at AHS facilities. Today, patients and their families are welcomed as full partners in care. As essential members of the care team, they can provide medical staff with important information regarding the patient, while also assisting in more positive outcomes for patients.
"Having family and support during a hospital stay can make a huge difference for patients and their care experience. AHS wants to encourage visitors to spend time with their loved ones while hospitalized," says Tiffany Fassnidge, Director of Policy Development with AHS.
"This is why AHS has been working towards harmonizing and expanding visitation and family presence guidelines across the province."
The chairs also add to the security and peace of mind for patients and family members alike, especially with pediatric patients, says Mann.
"We'd like to extend a big thank-you to the Foundation for these chairs. We're very lucky to have their ongoing thoughtful, generous support."