A salute from the heart
November 9, 2017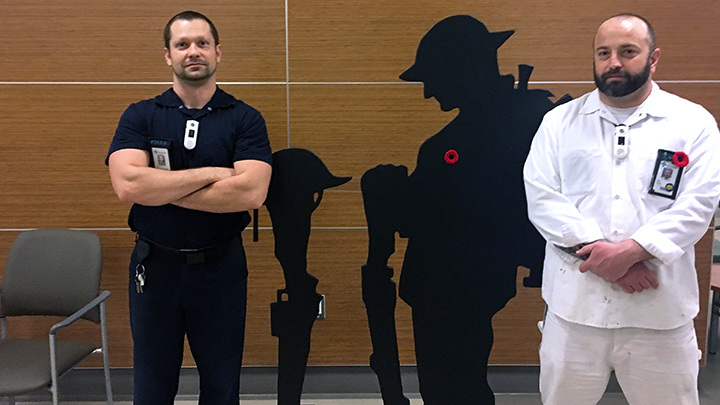 South Health Campus staff build wooden silhouettes to honour Canada's fallen soldiers
Story by Lisa Sutherland
CALGARY — Should you glimpse the shadow of a soldier over your shoulder this Remembrance Day, take it as a precious reminder of the many sacrifices that were made on our behalf.
Wooden silhouettes of soldiers have been positioned throughout South Health Campus as a way to recognize the many men and women who gave — and who continue to give — their lives for our freedom here in Canada.
The driving force behind the touching silhouettes is Mike Smithson, an Electronics Technician on the campus.
"Last year when I was at a local seniors' facility, I had the opportunity to view similar silhouettes," says Smithson. "For me, that moment was a striking reminder of what Remembrance Day means — and I felt it should be shared here at the South Health Campus."
So Smithson and a few of his colleagues in Facilities, Maintenance and Engineering — maintenance worker Darel Unrah, painter Jake Richardson and carpenter Andy Johansen — took up the challenge.
They researched photos to accurately portray a Canadian soldier, projected the images onto plywood, and then got to work building them.
"I'm touched by the gesture from our staff who were involved in this project and their commitment to providing other staff, patients and volunteers the opportunity to honour those who served and serve our Country," says Lori Anderson, Senior Operating Officer, South Health Campus.
"A visitor to the hospital was seen saluting the soldiers depicted in these silhouettes, and I'm grateful we're able to provide people with that important opportunity."
The South Health Campus will also hold a Remembrance Day ceremony at 11 a.m. on Friday, Nov. 10, for patients and families.
"I hope that everyone will take a moment," says Smithson, "to remember and honour those who have served, those who serve today and the sacrifices they have made for us."