Beloved Blue Bunny makes his way home
Beloved Blue Bunny makes his way home
November 6, 2017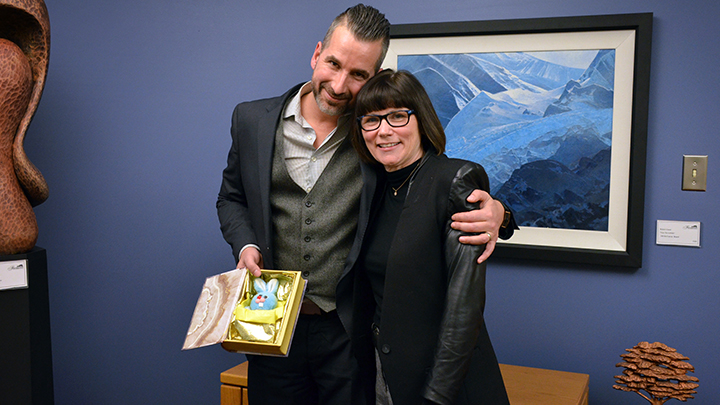 Little boy's gift to a young nurse comes full circle 37 years later
Story by Vicki Hall
At age nine, Brooks Hoffos did not wake up on the morning of Christmas Eve. His sister tried to rouse him with no success. His worried mom also had no luck and frantically called the family doctor.
Upon arrival, the doctor (who did house calls) said there was no time to waste. Brooks had slipped into a coma with spinal meningitis — an infection of the fluid and membranes around the brain and spinal cord. They rushed him to the Grande Prairie General Hospital where he underwent a spinal tap. A priest even delivered last rites.
Throughout the ordeal, Brooks clutched his plush blue bunny as he fluttered in and out of consciousness.
"I knew how special that bunny was to him," says Joan Libsekal, the pediatric nurse assigned to Brooks during the Christmas holidays in 1980. "He couldn't go to sleep at night if he didn't have that bunny. When he was sick, he had a lot of medical interventions. When he was scared, that blue bunny was his saving grace."
Before his discharge, Brooks insisted on giving the blue bunny to Libsekal as thanks for the compassion she showed for such a sick little boy.
"All I remember is that I was leaving, and I knew the nurse had to have it," says Brooks, now 46 and working as a real estate agent in Grande Prairie. "She made me feel safe."
Libsekal tried to give the blue bunny — about six inches tall, with his right eye up, his left eye down, crooked teeth, ears off tilt and a faded white tummy — back to the little boy's mom.
She refused, saying her son discussed it with her at length and knew exactly what he was doing.
"For me, it was a very emotional thing," Libsekal says. "I was very humbled to think I made such an impact on one of my patients. This little boy wanted me to have his favourite toy.
"I took it home, and I made two promises. One was to take extra care of that bunny and use it as my guiding light. It was a constant reminder for me of the importance of Patient First and the impact we have as healthcare providers."
The second promise? To one day track Brooks down and give the battered blue bunny back.
True to her word, Libsekal tucked the blue bunny in little bag and kept him safe. Throughout the next 36 years, she served as a nurse, unit supervisor, director and then Senior Operating Officer at the Queen Elizabeth II Hospital.
"I would take my little bunny and would share it with staff and managers just to reiterate the importance of the role we had with patients," she says. "The bunny molded me and shaped me into the nurse I became and believe I am today.
"In this business, the patient comes first. We have such an impact on people when they are ill, and it's the little things that make a difference."
Libsekal had been on the job for only 16 months when she received the blue bunny. This January, she retired from Alberta Health Services and decided the time had come to return the rabbit to its rightful owner.
She reached out to Cindy Park, the former executive director of the Grande Prairie Regional Hospital Foundation. Park just happened to know Brooks and arranged for the patient and nurse to meet all these years later.
"She walked around the corner, and I started bawling," Brooks says. "She gave me the bunny, and I broke down.
"It was a lot of emotions. You don't park it when you go through an ordeal like that as a kid. Life goes on, but it made me who I am."
Now all grown up, Brooks hopes the story of the blue bunny will continue to remind healthcare professionals just how profoundly they can affect their patients.
"So often, we forget the people who take care of us along the way," he says. "We get out of the hospital and don't say thank you or look back.
"Looking back, Joan changed my life. Her impact helps me to take on the day with a positive approach. This is why I love my life."
And the battered blue bunny is back where he belongs.