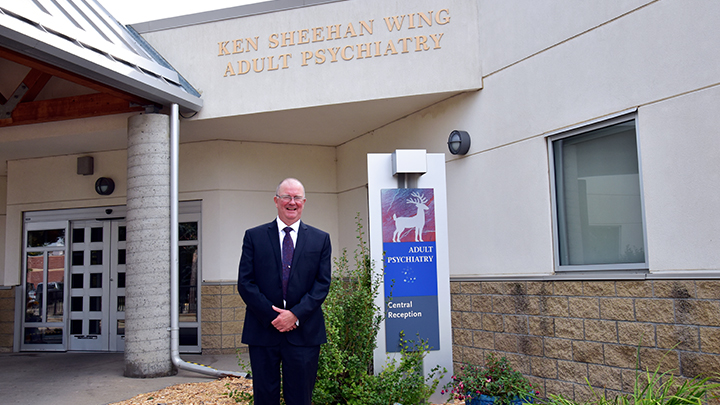 Former Alberta Hospital Ponoka mental health leader honoured
Story by Melissa Ballantyne | Photo by Jim Huse
PONOKA — The Adult Psychiatry wing at the Centennial Centre for Mental Health and Brain Injury (CCMHBI) has been renamed the Ken Sheehan Wing – Adult Psychiatry to mark the accomplishments of the former executive director of the Alberta Hospital Ponoka.
"This is certainly an honour," says Sheehan. "Especially when the other two major buildings here are named after the Hon. Halvar Jonson and the Hon. Dave Russell. I'm certainly not in that league. I'm really honoured to have even been considered."
Sheehan spearheaded several program overhauls during the nearly 20 years he worked with Addiction and Mental Health in Alberta. This included creating program management plans to support multidisciplinary care teams, using evidenced-based care models, and a shift to focus services on patient and client needs. He was also heavily focused on reducing stigma around mental illness.
Work to have the wing renamed began a couple of years ago through a formal submission for honorific naming by former colleagues, including current CCMHBI Executive Director Dwight Hunks.
"Ken was a visionary," says Hunks, who worked under Sheehan for several years. "His commitment, dedication and leadership helped raise the status, practice and perception of care of addiction and mental health services in Alberta."
Sheehan was Executive Director at Alberta Hospital Ponoka from 1984 to 1998. During his last three years at the hospital, he sat on the Provincial Mental Health Advisory Board as Area Director for Central Alberta. He became the Chief Operating Officer for the Alberta Mental Health Board in 1998, and two years later became Chief Executive Officer; he retired in 2002.