Pedal pushers turn weekend warriors to combat cancer
Pedal pushers turn weekend warriors to combat cancer
October 3, 2017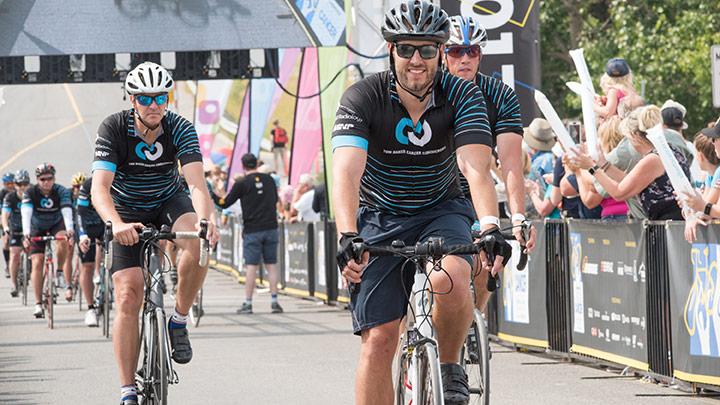 Tom Baker team spins $385,375 for clinical trials in Enbridge Ride to Conquer Cancer
Story by Gregory Kennedy
CALGARY — Epic adventure, breathtaking Rockies scenery and a cool fundraiser to keep cancer on the run.
Rarely do all three roll together into an unforgettable cycling weekend like the Enbridge Ride to Conquer Cancer.
Just ask Nancy Nixon, co-captain of the Tom Baker Cancer Conquerors. Her team of 120 riders pedaled 220 km over two days from Calgary to the Rocky Mountains to raise $385,375 for the Clinical Trials unit of the Tom Baker Cancer Centre.
"All of the money raised goes to the clinical trials unit here at the Tom Baker," says Nixon, an oncologist at the centre, who personally raised $4,000. "It's a nice dollar-for-dollar way to donate to important research that we do here. We get to see its effects in our patients every day."
In tandem with other hard-pumping crews such as Team Cross Cancer Institute ($150,409) and Team Central Alberta Cancer Centre ($123,097), the event drew 1,500 riders who raised $6.7 million for the Alberta Cancer Foundation over the Aug. 12-13 weekend.
The foundation says money from its ninth annual ride "moves us closer to our vision to conquer cancer in our lifetime" and also supports patients and families at the Cross Cancer Institute in Edmonton and 15 cancer centres throughout the province.
Two of Nixon's teammates — Chris Dunn and Larry Walter, both directors of HR Business Partnerships for Alberta Health Services — personally raised $2,600 and $3,300, respectively. Their team members included physicians, nurses, family and friends.
"It's both an inspiring and an emotional weekend," says Dunn.
Walter says he found the experience very moving: "You see individuals who have a picture of their loved one pinned to the back of their jersey. 'I miss my sister' was one this year that caught my attention."
"Not only is this a great cause and an extremely fun weekend," adds Dunn, "but you truly see the impact this event has through the remarkable people you meet along the way.
"Larry and I were fortunate to meet a young man on Day One and rode with him for a while. Hearing his story of being a cancer survivor — and how he has such a positive attitude — was simply amazing."