Dog walking changes a life
Dog walking changes a life
September 12, 2017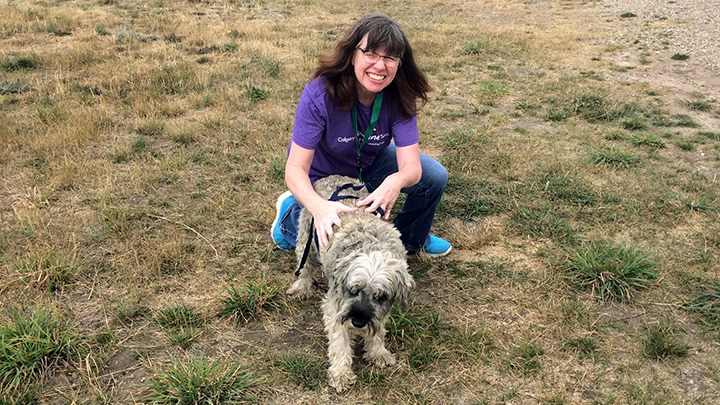 Make your pledge for Change Day 2017 to improve your health or the healthcare system
Story by: Vicki Hall
For Change Day 2016, Cheryl Katterhagen made a simple pledge to volunteer in her community.
She wrote it down. She told others. And she followed through by signing up to walk dogs at the Calgary Humane Society.
Little did she know how a two-hour-per-week commitment could ripple through her entire life.
"It's a very small change, but I'm healthier physically, emotionally and mentally," says Katterhagen, Senior Consultant, Medical Affairs. "I've dealt with chronic depression for 20 years, so I'm very concerned about taking care of my mental health.
"By volunteering, I'm helping out the dogs. I'm helping out the community. And I'm helping myself."
Indeed, the smallest of changes can have the greatest of impacts — in our personal lives, on the job and in society as a whole. That's why AHS is involved in Change Day, an international movement that calls on people to pledge to improve their own health or that of the healthcare system.
Change Day 2017 is fast approaching on Nov 17. Pledges can be as simple as committing to take the stairs instead of the elevator, turning off all electronic screens an hour before bedtime, or even wearing a hospital gown to work in hopes of understanding the vulnerability felt by some of our patients.
All Albertans are invited to make a pledge as an individual or a team at www.changedayab.ca.
"So many of us have ideas for change — but many of them don't necessarily go anywhere," says Lynette Lutes, Senior Program Officer, Quality & Healthcare Improvement. "Change Day is about making these ideas a reality, even if they seem small."
Change Day helped Katterhagen make what she considered a small change as a volunteer dog walker.
"Because I live by myself, there's really no one for me to be accountable to," she says. "But this time, I made a promise for Change Day. That made me accountable. And If I didn't show up for a shift, the dogs might not get walked. That made me accountable, too."
Buoyed by that accountability, Katterhagen braved blasts of wind, rain and snow to walk the dogs. And as she put one foot in front of another, her next steps in life became clear.
On her dog walks, Katterhagen came to terms with the fact she needed to follow through with a recommended foot surgery connected to cerebral palsy. She underwent the procedure in April.
This summer, Katterhagen bought a house ¬— complete with a fenced-in backyard — and moved out of her old apartment that didn't allow dogs on the premises. She's already welcomed one canine visitor and has designs on fostering or adopting dogs down the road.
"Change Day changed my life," she says. "I'm living proof that one little change can turn your world around for the better."
For everything you need to get started, go to www.changedayab.ca. After posting your pledge on the website, share it on social media with the hashtag #ChangeDayAB.
"It was so amazing to see all the pledges for improving patient care last year," Lutes says. "I can't wait to see what people come up with this year!"