Investing in healthy futures
Investing in healthy futures
September 7, 2017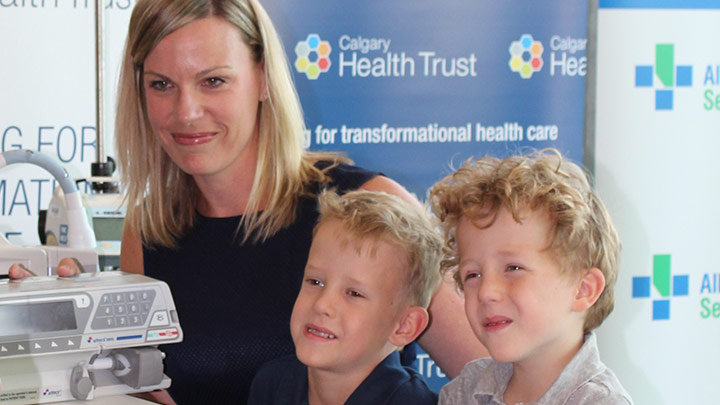 Local home builder donates $500,000 to neonatal intensive care unit campaign
Story & Photo by: Blain Fairbairn
Craig Heynen's twin boys Emmett and Lucas spent the first four months of their lives in the Neonatal Intensive Care Unit (NICU) at Foothills Medical Centre (FMC).
So the Heynen family knows firsthand that the Calbridge Homes' $500,000 gift to Calgary Health Trust in support of neonatal health means a lot more than greater capacity and new equipment.
It means the most fragile among us have better odds at thriving like Emmett and Lucas, who are now five years old.
Craig Heynen is forever grateful for the care his boys received in those tenuous early days.
"They're not just nursing and healing two people – they're healing two adults at the same time," Craig Heynen says of the frontline staff at the Foothills NICU.
Bev Higham-Linehan, Calbridge Home's President and CFO, says the long-time Calgary builder was motivated to support the FMC NICU after receiving a tour of the facility in November 2016.
"We left our visit feeling so proud of what this unit has to offer, not only to patients – the youngest and most vulnerable of infants – but to their families as well," she says.
"It was immediately apparent that an ever-growing demand has exceeded the available resources for the neonatal intensive care unit. We knew overwhelmingly that we wanted to invest in Calgary's future."
Calbridge's gift is a significant step forward in the plans to redevelop the FMC's NICU and accommodate the growing needs of Calgary and southern Alberta. Nationally, one-in-10 newborns will need the care of the NICU. In Calgary, that number is one in eight.
The Level 3 NICU at FMC provides intensive neonatal care for the most premature newborns, as well as children born with complex medical issues.
Within the Calgary Zone, high-risk obstetrical deliveries are planned for FMC and newborns from all over southern Alberta who require Level 3 tertiary care may be transported to the site. These factors, combined with Calgary's growing population, make FMC's NICU one of the busiest in Canada.
Dr. Chris Eagle, President and CEO of Calgary Health Trust (CHT), says this first leadership gift in the Trust's neonatal campaign sets the stage for generations of Albertans to benefit from enhanced capacity and world-class care.
"The investment Calbridge is making in neonatal care is really an investment in the next 60, 70, possibly 80 years as these newborns are given the foundation they need to thrive throughout their lives," says Dr. Eagle.
The campaign, to be formally launched in 2018, aims to raise $60 million to enhance neonatal care at FMC, Peter Lougheed Centre and Rockyview General Hospital.
CHT is a Calgary-based charity focused on fundraising to transform health care in Alberta. Thanks to the incredible generosity of donors, CHT has helped raise more than $427 million for healthcare since 1996.
To learn how you can support innovative healthcare initiatives in the Calgary Zone, visit www.calgaryhealthtrust.ca.