How Charity saved a life
August 9, 2017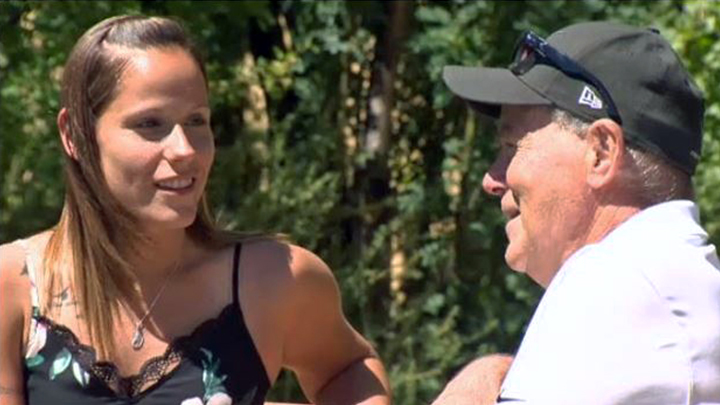 Living organ donor lives up to her name with gift of a new kidney
Story by Blain Fairbairn
CALGARY — When Charity Bradfield learned that her friend's father, David Wright, was on the wait list for a new kidney, she didn't hesitate to make the most selfless decision of her life.
"I said I'd take the test and if we're a match I'd donate," says Bradfield, a neonatal intensive care nurse at the Peter Lougheed Centre. "If I was in her position, I'd be begging for someone to come forward to help my father.
"So I just went ahead with it."
For the mom of two young boys, the decision to donate a vital organ to a virtual stranger was a simple case of the right thing to do. Someone was in a dire situation, and she was in a position to help.
"Every step I went further and further it just felt like the right choice," she says. "When I think back, it was literally like `what pair of shoes am I going to wear today?' It wasn't a hard decision at all."
In August 2016, Bradfield took her first test to determine if she could donate her kidney to Wright. The initial results showed they were a match.
Although optimistic, Wright cautiously waited to see how further testing would unfold. He also wanted to ensure Bradfield had adequate time to think through her decision.
"I didn't reach out to her," says the retired engineer. "I didn't want to put any pressure on her because we'd been through this with my daughter. She couldn't donate because my disease is likely hereditary."
The second test indicated a positive crossmatch, meaning Wright's body could reject her kidney. Thankfully, the setback was short-lived.
A third and final test was conducted, and the results proved positive and conclusive — they were a definite match.
On April 5, 2017, Bradfield was wheeled into an operating room at the Foothills Medical Centre to follow through on the promise she made just a few months earlier. Wright didn't just receive a new kidney — he was given a new lease on life for which he says he's eternally grateful.
Fully recovered and back to enjoying healthy, active lifestyles, Bradfield and Wright share a special bond that only a living organ donor and recipient can fully appreciate.
For Bradfield, the spirit of generosity is deeply ingrained in her family. A few years ago, her sister donated a kidney anonymously. Her eldest son, who calls her a 'hero,' also wants to be an organ donor when he grows up.
Bradfield says she's just happy for the opportunity that allowed her to step in and make a difference when one was desperately needed.
"I love to talk about it and share my story, if it comes up, but I didn't do this to be in the spotlight," she says. "I did it simply because he deserves to see his grandkids grow up, and my friend deserves her dad."
To learn more about organ and tissue donation, please visit the AHS Organ, Tissue and Eye Donation page.