Be prepared
August 8, 2017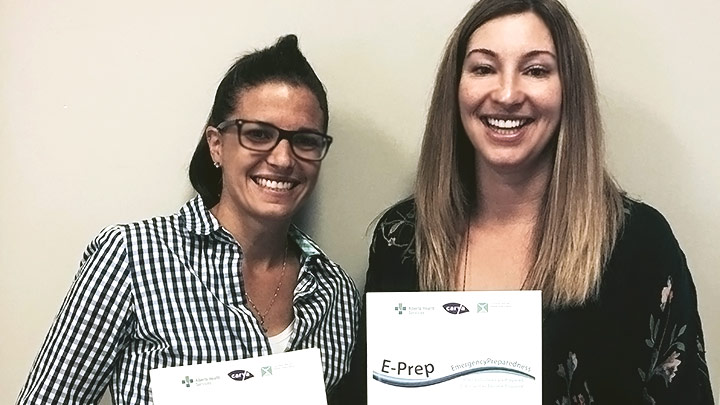 E-Prep workshop readies residents to face emergency on all fronts
Story by Kirsten Goruk
FORT McMURRAY — When Jacqui Everson fled the wildfire that engulfed the city last May, she thought she was leaving for maybe a night or two, not a month and a half.
"I'm not going to lie, I was a bit of a naïve Albertan, coming out here from Ontario," says the 32-year-old. "I didn't quite know the extent of these wildfires. Had I had some training prior to (the disaster), I would have been far more prepared."
While she hopes she'll never have to experience such an emergency again, she sees the value in registering for E-Prep, a collaborative initiative between Alberta Health Services (AHS) and Carya Calgary that offers emergency preparedness workshops in Fort McMurray.
"The material was so straightforward, easy to work with and to understand — and easy to take home and then use yourself. I enjoyed that it was learning through shared experiences, and building off of other people's great ideas, to create your own personal toolkit," says Everson.
Jodi Sperber, a Health Promotion Facilitator with AHS is a new facilitator for the workshop and she wanted to help lead them because she knew it would support her community in its recovery.
E-Prep is a free, two-hour session where participants form small groups to go through a workbook to create their own personalized emergency preparedness guide.
"The guide looks at more than just a physical kit, which is obviously very important, but it helps you with the emotional pieces," says Sperber.
"We want people to have a sense of preparedness, which includes some peace and calm when you're in a situation that causes the opposite of that. It's not just about individuals, but the community as well," she adds. "Maybe you don't talk to your neighbor all that much, but it will make you aware of who's in your neighborhood, who might need help beyond your own family."
The next workshop is scheduled for Aug. 17. Afterwards, they'll be offered on an as-needed basis, until the second anniversary approaches next May, when regular sessions will resume.
Carya Calgary is a charitable organization that focuses on connecting people of all ages with services that support living a healthier life while addressing social and emotional barriers.
Sperber says that, so far, participants hadn't realized the emotional, social-connection piece that goes along with being prepared — and that when they "reflected on their experiences with the wildfire, they know having this emotional preparedness would have helped."
Anyone looking for more information about E-Prep, or to register for the Aug. 17 workshop, can call Heather Hillier at 780-793-8383.