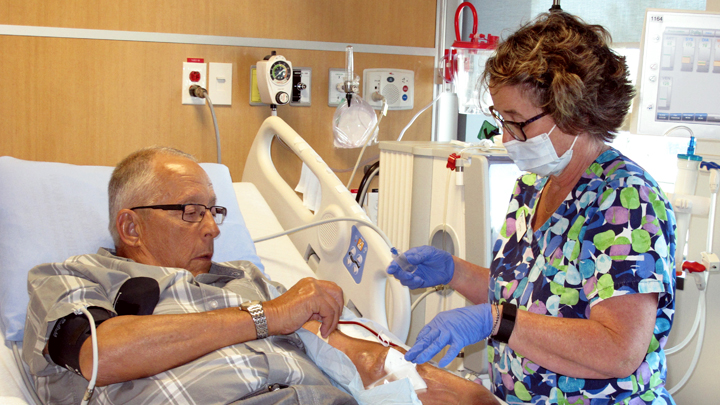 Medicine Hat's new Kidney Care Centre like a second home for patients and staff
Story and photos by Lisa Squires
Dialysis patients in Medicine Hat have a new Kidney Care Centre (KCC) to call home, designed to provide more space, privacy and comfort for the many hours they spend receiving their life-sustaining therapy.
Living with kidney failure requires patients to dialyze four hours, three times per week, which means they spend lots of time in the KCC dialysis unit, which relocated in April to the new Ambulatory Care Building at Medicine Hat Regional Hospital (MHRH).
"We see our patients sometimes more than we see our close family members," says nephrologist Dr. Aijaz Ahmad, a specialist in kidneys and kidney disease at MHRH. "That's why we need a good space; this is like a second home for patients and staff."
The new Kidney Care Centre — which features a hemodialysis unit, a kidney care clinic and a nephrologist clinic — is open Monday to Saturday, 7 a.m. to 7 p.m.
Care is delivered by a multidisciplinary team — a nephrologist, nurses and nursing attendants, unit clerks, a social worker, pharmacists and dietitians — who proactively help people at risk of developing kidney disease, such as individuals living with diabetes, high blood pressure or high cholesterol. As well, for those already living with kidney disease, the team aims to slow its progression.
Robert "Buzz" Buzinski, 63, of Medicine Hat, has been on dialysis for the last 21 years. If a donor is found, a kidney transplant could change his life.
"We've been waiting a long time for this," says Buzinski of the new space. "We've really come of age since I started dialysis. Technology's better. Patient comfort has greatly improved. But no matter where we are, the one thing that hasn't changed is the great care we get."
Carol Easton, Executive Director of the Southern Alberta renal and transplant programs, says the KCC is part of Alberta Health Services' (AHS) network of programs, services and expert care delivered through the Southern Alberta Renal Program (SARP).
Its open concept ensures patients are always visible to nursing staff, she adds. There are large treatment stations, big windows and new equipment, such as overhead lifts. The unit also includes clinical exam rooms, a dedicated room for home hemodialysis training, two training rooms for peritoneal dialysis and two negative-pressure isolation rooms, when needed.
As well as more space and greater privacy, the new weigh station allows patients to stand or have wheelchairs or beds placed on the scale to be weighed.
"Weighing patients is very important in renal replacement therapy because not only are toxins removed from the body, but fluid is also removed," says Easton. "It's really important to know prior to dialysis and after dialysis what the patient's weight is — and this new weigh station is amazing."
The number of treatment spaces has increased to 18 from 14, which allows staff to see up to 72 dialysis patients weekly, compared to 56 in the previous unit. Easton says additional times can also be booked in the evening to accommodate up to 108 patients per week. Meanwhile, the Kidney Care Clinic currently sees 200 patients who do not yet require dialysis.
"There are no wait times for patients who need dialysis," says Easton. The larger space allows staff to easily accommodate new patients. "Any patient who needs dialysis will receive it immediately."
That's good news for patients like Buzz. But what he'd really like to see is more kidney donors and for people to take better care of themselves.
"People don't really pay attention to what their kidneys do," he says. "Kidneys are the master chemists of the body. Until we can invent a kidney replacement, we have to rely on organ donations from living or deceased donors. That's a tough subject to broach, but it's an important conversation for families to have."
To learn more about organ and tissue donation, please visit: www.ahs.ca/services/Page13174.aspx.