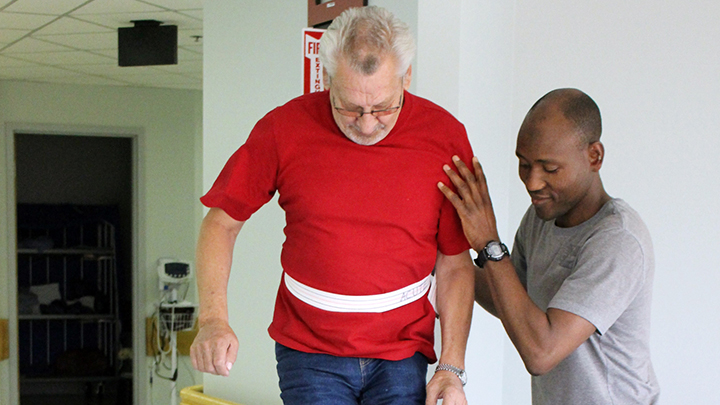 Two decades after leaving his native Nigeria, Nurudeen Amusat has come a long way professionally, and his Two Hills patients are the better for it
Story and photo by Heather Kipling
TWO HILLS — His unwavering desire to help others — and to dodge a lot of math — first propelled Nurudeen Amusat on his excellent journey towards a healthcare career.
Born in Nigeria, Amusat recalls not being exactly sure what he was getting into when it came to physiotherapy, but once he started, he found it a good fit — and knew there would be no going back.
"Physiotherapy has been a very rewarding career for me," says Amusat, the very first Bachelor of Science Physiotherapy honours student to graduate from the University of Ibadan, Nigeria, in 1994, where he first began his practice.
"I didn't have a guidance counselor in school, but I knew I wanted to help people and I wanted to avoid a lot of math, so somehow I decided on physiotherapy," he adds. "Once I was into it, I found that it just fit, it was what I wanted to do. When I graduated as the first honours student in my school it felt like winning the lottery."
After practising four years in Nigeria, Amusat worked in Kuwait for three-and-a-half years, before ultimately coming to Canada in 2002. Eager to work as soon as possible upon his arrival, yet be close to a university, he chose to settle in rural Alberta, taking a job at the Two Hills Health Centre, where he's been ever since.
"There's more opportunity here than when I was working in the Middle East, more opportunity for professional growth," says Amusat. "Here, I do have a small outpatient clinic where I do a lot of services that people might otherwise have to travel for, but I work primarily at the health centre with Stroke and Geriatric Empowerment (SAGE) program patients."
"I was able to help develop the guidelines we use for the program in Two Hills. I also took part in developing the standards of care for stroke patients provincially, and every day I can work with patients, helping them rehabilitate and recover."
The SAGE program operates in a dedicated, 12-bed inpatient unit in Two Hills, providing short stay rehabilitation to adults. The program is designed to help improve physical function and independence for patients admitted to the program, many of whom have suffered a stroke.
"Physiotherapy is very important in the continuum of recovery and rehabilitation. It's a cornerstone," says Amusat. "As part of this program we use exercises or other means to help patients restore functionality, working with them on a daily basis. It's a very intense focus on restoring function.
"The program is a gem," he adds. "It's one of a kind in rural Alberta — and it's a very powerful program to be a part of. The smiles and the 'glow' of people when they come in on stretchers, and then walk out, that's amazing. It's great to see those we care for satisfied and happy."
The collaborative teamwork that supports patients in the SAGE program is also something that has supported Amusat himself over the years, as he pursued his Master's degree at the University of Alberta, and then his doctorate in physical therapy in Arizona, all while caring for a full caseload of patients.
"The team here is very supportive and encouraging. They gave me the opportunity and the support to continue learning and growing as a professional, and as a person," says Amusat, who completed his doctor of physical therapy program at the Arizona School of Health Sciences last year. "Health care is always evolving because it is so dynamic, so you have to keep learning."
Part of his motivation for lifelong learning is that access to specialists can be a challenge in rural Alberta, says Amusat.
"Access can be limited to specialists in rural areas where we simply don't have specialized services in every community," he says. "I want to try to the best of my ability to offer multiple services to those I care for so they don't have to travel as far or as frequently, if I can help them."
When he isn't learning, Amusat gives of his time as a second-term member of the College of Physiotherapists competence committee, the profession's regulatory body, and also helps to educate others.
He also regularly volunteers his time to help international physiotherapists prepare for the national exam that will allow them to practise here in Canada. Through his role as a Clinical Assistant Professor in the Department of Physical Therapy at the U of A, Amusat is educating the physiotherapists of tomorrow.
"Going forward as I get older, physiotherapy is something I will need myself — so I will need someone to provide the services to me," he says with a smile. "I love to educate, and working with students allows me to share with them and to help them develop in this profession.
"We all want to have a dedicated and compassionate group of healthcare providers to care for the people of this great province, this great country, in the years to come. If I can be a small part of that, then that's wonderful."