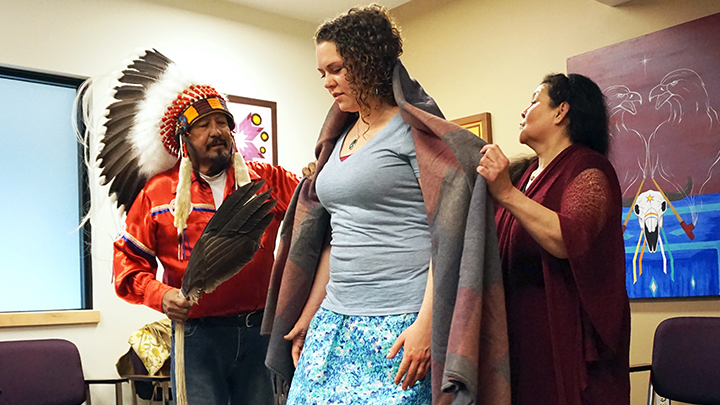 Cree naming ceremony helps Red Deer nurse find spiritual healing and balance
Story and photo by Sarah Megran
RED DEER — The moment Nicole Madsen stepped barefoot onto a buffalo rug, as a blanket was removed from her shoulders, her journey of spiritual rebirth as Bear Claw Woman began.
Madsen, a registered nurse at Red Deer Regional Hospital Centre (RDRHC), took part in an Indigenous Cree naming ceremony — the first one ever held at an Alberta Health Services (AHS) facility.
"I feel enlightened, and have a surge of new energy," says the 33-year-old. "I'm looking forward to learning more about my new name, and being able to embrace its meaning on my spiritual journey.
"It's a warm feeling. I can't quite explain it," she adds, noting her great-grandmothers were Metis on both her mother's and father's side. "It's a part of me I have never known."
Madsen, who's faced some recent life challenges, was seeking a place for healing and learning — and found both in the Indigenous Culture room at RDRHC in the April 19 ceremony.
"I knew I needed to make some significant changes to ensure my wellness did not take a back seat to being a parent, wife, nurse, daughter and friend," says Madsen. "I was inspired to really open my eyes and question my views."
Cree Elder Wilson Okeymaw of Maskwacis was present to guide her path towards wellness.
"The ceremonies we have here offer spiritual health and energy, which progresses one's journey in life, just as Madsen will experience when she leaves the room today," says Okeymaw.
Madsen's new path began several months ago. After attending several smudging ceremonies and exploring ways of self-healing, she approached Okeymaw and asked to be given a Cree name.
"Wilson Okeymaw is Cree and I want to learn more about the culture to help break down barriers, make connections and inspire others to do the same," says Madsen. "Being given a new name is a way to let go of my past, move forward and just live as a new person."
A fitting name came to him in a dream, says Okeymaw, who explained to Madsen that bears are symbols of strength, power and wisdom to many Native Americans, and are often associated with healing and medicine.
"Receiving the Cree name Bear Claw Woman will allow Nicole to enter her spiritual side and she'll be able to guide her own path and grow into this new person," he adds.
The hospital's Indigenous Culture room — which opened in three years ago — provides a space where people can balance traditional medicine with spiritual healing. Patients, families and staff are welcome to attend smudging and prayer ceremonies, which take place every Wednesday at 2 p.m.
"I think learning and expanding our knowledge of Indigenous cultures will ultimately help us provide better patient-centred care," says Madsen.
"I want to help open people's minds, just as my mine has been opened."