Playoff fever!
May 10, 2017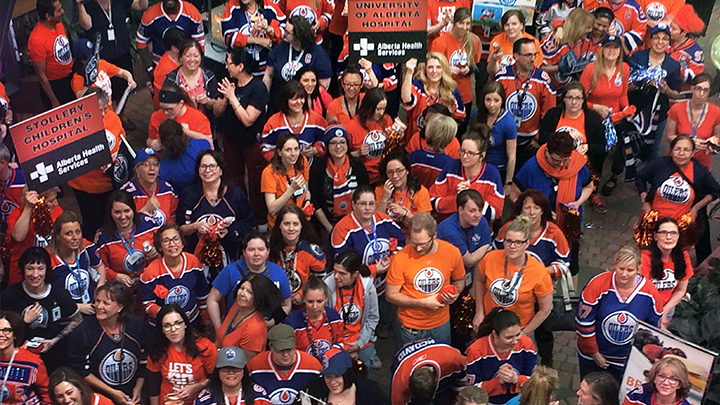 Edmonton staff rally to celebrate their Oilers pride
Story and photo by Shelly Willsey
A sea of orange washed over the University of Alberta Hospital (UAH) and Stollery Children's Hospital prior to the National Hockey League playoff game between the Edmonton Oilers and Anaheim Ducks on May 3 — and hopes are high for tonight's seventh and final series game.
Staff, physicians, patients and visitors from both hospitals as well as the Mazankowski Alberta Heart Institute and Kaye Edmonton Clinic joined together near the UAH cafeteria for an Oilers rally to chant, flourish their Oilers gear and try to catch one of the Oilers T-shirts being tossed from the stairs.
"The Oilers have always supported us, from player visits with patients to the Edmonton Oilers Ambulatory Clinic," says Christine Westerlund, Senior Operating Officer, Stollery. "We're glad we could return the favour and show our support for them."
Chants of "Let's Go Oilers" and "We Want the Cup!" echoed across every floor of the hospital, drawing even more supporters into the crowd.
"The playoffs have been so exciting, and this is a fun way to bring that positive energy into the hospital and show our support for the Oilers," says Melissa Jacobs, UAH Administrative Assistant and event organizer. "A number of individuals from across the site came together and collaborated to organize this event. We couldn't have done it without them."
The Edmonton Oilers organization donated T-shirts and shiny orange pom-poms for the rally, as well as an autographed hockey stick, later won by Stephen Schmidt, Attendant in Prov Lab – Stores.
The hospitals also held a staff-room decorating contest, ultimately won by UAH Endoscopy. Areas throughout the hospitals were resplendent in jerseys, streamers, signs and cans of Orange Crush.
Oilers playoff fever has indeed taken hold at hospitals across Edmonton, with many holding Oilers Days allowing staff to dress in blue and orange and show their Oilers pride.