It's electrifying!
April 24, 2017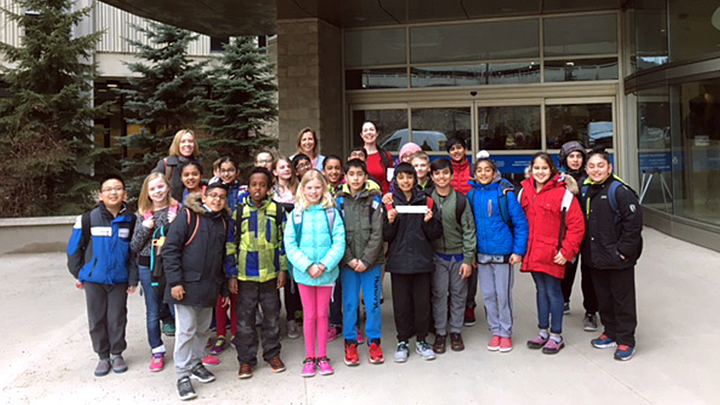 Grade 5 students pumped up after 'stimulating' field trip to Mazankowski Alberta Heart Institute
Story by Sharman Hnatiuk
EDMONTON — Twenty-four students were shocked, quite literally, to learn just how electrifying the human heart can be, thanks to a unique educational experience at the Mazankowski Alberta Heart Institute.
On behalf of her Grade 5 class, teacher Tomi Brooks of A. Blair McPherson School posed the question — "What exactly is the electrical system of the heart?"— to two members of the cardiac sciences team: Mandy Bellows, clinical nurse specialist, and Christina Eichorst, clinical nurse educator.
Their answer: "The heart is full of electricity!"
During their morning field trip here, the students discovered more about the anatomy and physiology of the heart, including how the cardiac conduction system's specialized cardiac muscle cells, found in the walls of the heart, send signals to the heart muscle to cause it to contract.
To illustrate these nerve signals, students were given the opportunity to test the electrical activity of their hearts using an electrocardiogram. As well, they were able to experiment with nerves in their arms using a nerve stimulator.
"Even though we aren't battery operated, our bodies are full of electricity," says Bellows. "Hooking the students up to the machines helped us show how every time the heart beats, it begins with an electrical impulse."
Bellows and Eichorst then led the students to the Jim Pattison Centre for Heart Health where they learned about the importance of rehabilitation for patients following a cardiac episode.
While the treadmills gave a few students the opportunity to get their blood pumping, the visit also included meeting some of the rehabilitation staff who shared healthy habits for the heart, including the importance of nutrition, exercise and not smoking.
"In just two hours we got to learn how the heart works, measure how fast it beats, as well as valuable lifelong tips on how to keep it pumping," says Brooks.
"The kids were a buzz of chatter on the way back to school, sharing their favourite parts and what they had learned. It will be a field visit they'll remember for a long time."