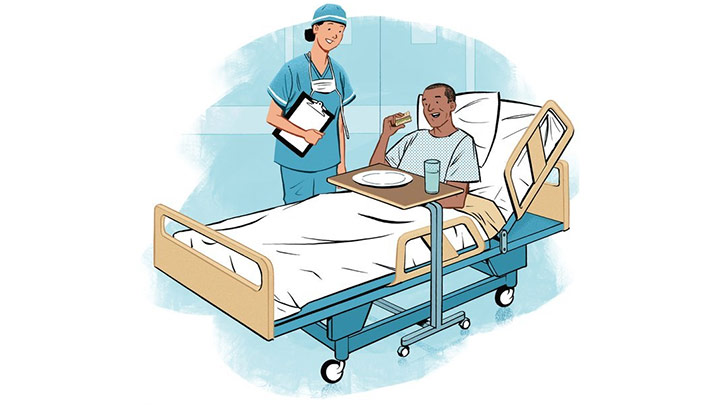 ERAS is challenging long-held practices about when and what surgical patients eat
Story by Caitlin Crawshaw | Illustration by Jori Bolton
If you've had surgery, you know your operation can feel like a sprint and your recovery can feel like a marathon. A growing body of research shows that good nutrition can get you across the finish line faster.
"Optimizing nutritional health before undergoing surgery, and eating well afterwards, helps patients recover," says Dr. Leah Gramlich, a gastroenterologist, researcher and a provincial medical advisor for Alberta Health Services' Nutrition Services.
She also co-leads the province's Enhancing Patients' Recovery After Surgery (ERAS) research program. Its goal is to help surgery patients heal more quickly and with fewer complications. Based on a European approach with the same name, ERAS applies new knowledge to patient care before, during and after surgery.
Gramlich's research is funded by Alberta Innovate's Partnership for Research and Innovation in the Health System award, and affiliated with the Diabetes, Obesity and Nutrition, and Surgery strategic clinical networks.
When it comes to nutrition, ERAS is challenging long-held practices about when and what surgical patients eat, says Gramlich. For many years, patients were advised not to eat or drink for up to 12 hours before being given general anesthesia. Current research shows patients can drink clear fluids until two to three hours before surgery. Another recent finding is that surgical patients often heal better if they eat carbohydrates beforehand, as many athletes do before training and competition.
Of course, this doesn't mean patients head into surgery with a belly full of pasta: "You don't want to be eating too much," says Gramlich.
Instead, patients can now eat a small, soft meal (such as half a sandwich and a small glass of juice) about eight hours before their surgery. Not only will this fend off hunger, but it will help the body manage the physical stress of surgery. Patients who have carbohydrates can better maintain healthier blood sugar levels and avoid dehydration than those who fast, she says.
ERAS guidelines also allow patients to eat just hours after waking from surgery, explains Carlota Basualdo-Hammond, the executive director of AHS' Nutrition Services and an ERAS collaborator. A meal with protein (which nurtures muscle mass) has replaced the traditional post-surgery diet of clear fluids.
"From a patient perspective, it's all about making sure they have a good recovery so they can go back to what they were doing before the surgery," she says.
Basualdo-Hammond says ERAS also screens patients for malnutrition, which makes recovering from surgery much harder. Recent research by the Canadian Malnutrition Task Force, for which Gramlich was a co-investigator, found up to 45 per cent of Canadian patients are undernourished when admitted to hospital.
So healthcare providers are asking patients scheduled for surgery two simple questions: have you recently lost weight without wanting to, and are you eating less than usual or have you lost your appetite? If they answer yes to either question, they are referred to a dietitian for a more detailed assessment and, if needed, help with healthier eating before and after surgery.
As the ERAS program expands, surgery will be a different experience for more Albertans.
"We're changing our approach and we need to educate patients about it. This is changing the journey of surgical recovery," says Gramlich.
Surgery Insight
Chewing gum after surgery can help stimulate the bowels and kick-start the digestive system, which slows to a halt during surgery.
Patients can lose muscle mass because of the stress of surgery and inactivity in hospital. This can make it harder to get moving again.
In its first year, ERAS reduced patient hospital stays by an average of two days and reduced medical complications by 30 per cent.
Since 2012, ERAS measures have helped more than 4,000 patients recover from surgery faster.