Newborns given warm welcome
Newborns given warm welcome
January 19, 2017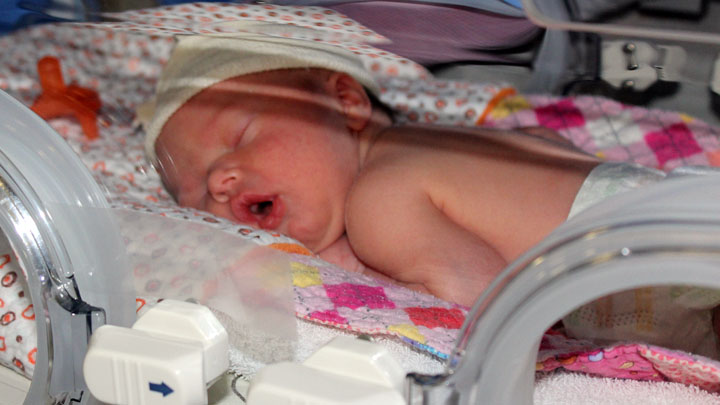 New high-tech beds house babies in carefully monitored 'rooms'
Story by Cynthia De Boer and Melissa Ballantyne; photo by Cynthia De Boer
RED DEER — Kari Martens was pleased with her newborn daughter Avry's 'home away from home,' after she came into the world on Jan. 10 four weeks early at 36 weeks gestation.
That's because Avry is the first baby at Red Deer Regional Hospital Centre's neonatal intensive care unit (NICU) to be using one of 10 new infant isolettes that were delivered earlier this week.
"It's a comfortable feeling," says Kari. "The isolette is providing what I can't right now."
Because Avry is premature and weighed just 5 lb.-4 oz. at birth, she needs to be monitored for temperature, breathing, heart rate, weight gain and how well she feeds.
And the Draeger 8000 isolettes help provide that. The equipment maintains and monitors infant core and peripheral body temperature, and humidity, all of which are crucial in caring for low birth-weight babies. In addition, the units are precise, easy to activate, and provide access to infants from either side. They feature electronic height adjustment so mom can see and touch her baby from the comfort of her chair. Upgrades from older isolettes on the NICU include a variety of features that mimic the uterine environment, including limiting direct light, lowering noise levels, and minimizing sleep interruptions.
"We know she's in great hands," says Avry's dad Ryan, referring to both the nursing staff and the incubator his daughter will be in for the majority of her NICU stay.
The $200,000 cost of the 10 isolettes was funded through the Red Deer Regional Health Foundation's 11th annual Love of Children Golf Classic. This brings the total number of high-tech incubators available in the NICU to 24 from 14.
"On average, there are 10 in use at any given time," says NICU Manager Sandy Walker-Kendall. "These additional units allow for easier rotation. They also ensure there are always isolettes available regardless of admission volume."
In 2016, approximately 4,700 infants required at stay in Red Deer Regional's NICU.
As for Avry's parents, they, too, have a 'home away from home.
While she remains in hospital, the Martens will stay in the Kinsmen Care-by-Parent Suite, another project funded through the Love of Children Golf Classic with part of a $340,000 donation from the Kinsmen Club of Red Deer. The funds, which totalled donations given over a three-year period from 2010-2012, allowed for a significant renovation to the parent area in 2014.
That upgrade turned the space into a three-unit family suite with a community kitchen and bathroom, and private sleeping areas containing daybeds and rocking chairs. Access to specialized medical technology in each room allows babies to stay with their parents. The parent suite is located beside the NICU and allows one or both parents to be near their baby 24 hours a day.
Depending on availability, the Care-by-Parent Suite allows parents from anywhere in Central Zone to stay in the hospital, free of charge.