New Year; New Nurse Practitioner for Slave Lake
New Year; New Nurse Practitioner for Slave Lake
January 13, 2017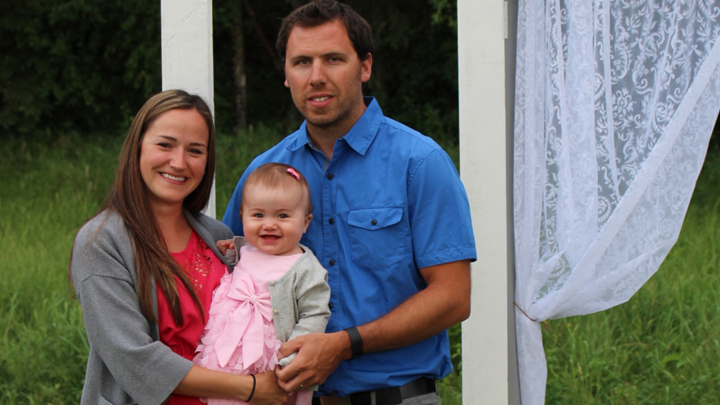 Local resident says she is happy to be returning to work in her new role
Story by Erika Sherk; photo courtesy Brittney Tradewell
Brittney Tradewell, a freshly-minted graduate nurse practitioner, says she couldn't be happier to be starting her full-time practice in Slave Lake.
"I'm definitely excited to start this new role," she says.
Though it was a busy life juggling her Advanced Practice Master's Degree through Athabasca University and a new baby – her daughter is now 16 months old – Tradewell says her experience putting in the required clinical hours at Slave Lake's Family Care Clinic (FCC) was "wonderful."
She's looking forward to returning to the team in her new role.
"I love the collaborative nature of the clinic and everybody is really willing to teach and take the time to work with students," she says.
Though nurse practitioners are highly sought-after across the province, for Tradewell it was a no-brainer to return to the Slave Lake FCC.
"The clinic is a great place to be," she says. "The nurse practitioners and physicians work together really well; it was a very positive learning environment."
Tradewell says she always knew she wanted to pursue a career that involved helping people. "I was looking for a caring role," she says.
She thought she'd become a registered nurse and then, much later on, pursue the education required to be a nurse practitioner.
Instead, at 28, Tradewell is already a graduate nurse practitioner. "I just thought, 'why wait?'" she laughs. She has to write the Canadian Nurse Practitioner Exam in May to be carry the full title of "nurse practitioner" but she has the same role and scope of practice now.
Dr. Keith Martin is the Alberta Health Services (AHS) Community Medical Director and also the Physician Lead of the FCC. He says he's very pleased to have Tradewell join the care team there.
"It was a privilege to work with Brittney when she was a nurse practitioner student," Dr. Martin says. "She was an exemplary student."
"She's going to be a huge addition to the clinic," he adds. "I think the community is lucky to have her and I'm really thankful that she chose to come and practice with us as part of the FCC team."
It was an easy decision to stay in the community, too, says Tradewell. She loves the clinic where she works, her husband is from Slave Lake and the area provides all the camping, fishing and trail-running she could want.
It's not always easy for smaller communities to recruit physicians and nurse practitioners so it's great news for the people there, says Wendy McLean, AHS Executive Director, Primary Care, Chronic Disease Management and Family Health, North Zone.
"I'm overjoyed," she says, of Tradewell's choice to base her practice in Slave Lake.
"We're really pleased that we were able to support her as one of our staff members as she worked to become a nurse practitioner."
Tradewell is an excellent addition to health care in the community, McLean says, particularly with her nursing background in chronic disease management.
"She has a wonderful ability to develop relationships with her patients and families and work with them to meet their healthcare needs."
Tradewell joined the clinic as a nurse practitioner on January 9th.