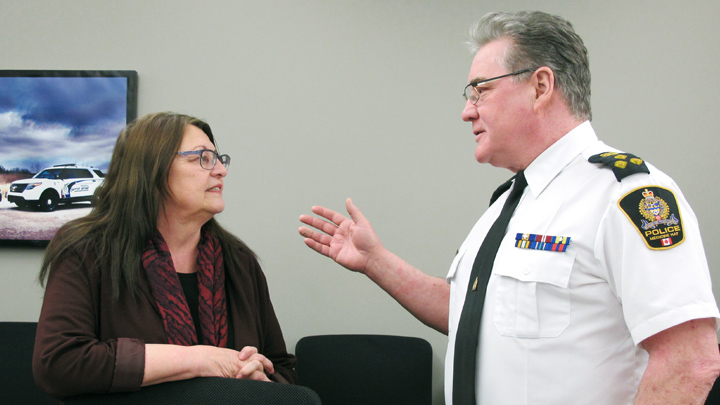 Additional tool sees AHS and police partner, giving 'vulnerable population' support it needs
Story and photo by Lisa Squires
A new Police and Crisis Team (PACT) in Medicine Hat is ready to help residents at risk of mental health, addiction or psychosocial crises.
PACT, a partnership between Alberta Health Services (AHS) and the Medicine Hat Police Service (MHPS), pairs a mental health clinician and a police officer who provide a shared response during emergency calls to assist individuals in crisis.
"This is huge," says Const. Travis Funk, a member of PACT. "Without PACT, we can't discuss much on either side because of confidentiality. This allows for better communication and use of resources. If we can get to the root cause of an individual's crisis, we'll be more successful in helping them."
The purpose of PACT is to steer individuals with mental illness or addiction issues away from the justice system and toward the most appropriate community services and resources to stabilize them.
"Research has shown we can reduce the incarceration and recidivism of people with addictions or mental illness by linking them to appropriate services and supports in the community," says Trevor Inaba, Executive Director, Addiction and Mental Health, South Zone for AHS. "With appropriate early interventions, we are more likely to see successful outcomes."
Medicine Hat Police Chief Andy McGrogan agrees.
"Often, individuals with mental illness or addictions come to the attention of police for a variety of different reasons including minor and non-criminal activities," McGrogan says. "Now, we have an additional tool at our disposal to work with this vulnerable population and to get them the help they need. In many cases, the justice system is just not the appropriate place for these individuals."
Rita Duren, Director, AHS Addiction and Mental Health, South Zone East, says that although there are crisis services available, such as mobile response teams, PACT takes a more coordinated approach.
"We have a mental health professional on the PACT team working directly in the building with police," says Duren.
In 2016, the MHPS responded to about 1,200 calls related to mental illness or addictions. By having a mental health specialist review calls with police, clients immediately receive a mental health assessment, and the team determines the most appropriate course of action. Teams also provide assertive community outreach to the vulnerable homeless population by building a rapport with individuals and connecting them with appropriate community services.