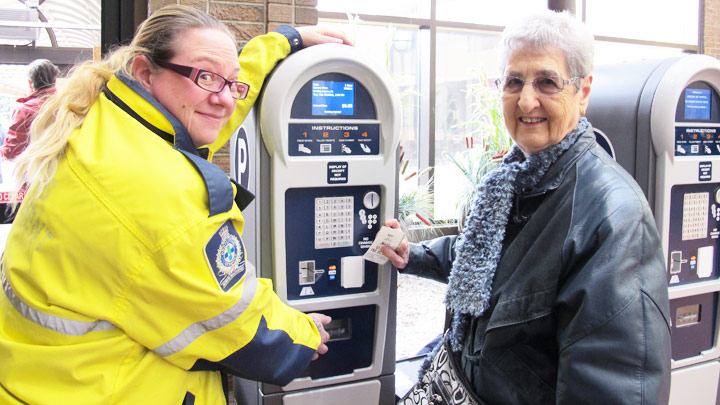 New pay parking meters reduce frustration and help improve traffic flow into South Zone hospital lots
Story and photo by Lisa Squires
Hospital patients and visitors in Medicine Hat and Lethbridge have a new way to pay for parking.
It's part of a move by Alberta Health Services (AHS) to improve customer experience and traffic flow at both Medicine Hat Regional Hospital (MHRH) and Chinook Regional Hospital.
Bob Cole, AHS Manager of Protective and Parking Services at Medicine Hat Regional, says the new "pay by plate" parking meters offer many benefits for visitors.
"Before removing gated entry into our lots, we experienced bottlenecks and traffic backups," says Cole. "Now, visitors won't have to deal with that or worry about lost parking stubs or having to display permits on their vehicles."
Gert Mondor, 89, of Medicine Hat, recently used the new machine while visiting her husband who's been in and out of MHRH since Christmas. She's grateful for the help she received from a parking ambassador.
"When you don't know how to use something, it can be frustrating," says Mondor. "Having someone there was helpful. The new machines are fairly easy to use. Having them located inside is nice."
In Medicine Hat, extra parking services staff were on hand to help visitors during the transition period, but parking services staff are always available at both sites to answer questions and lend a hand.
With the new parking meters, after parking, visitors should immediately visit an indoor pay station, enter their licence plate number, the amount of time they need on site, and purchase parking. Pay stations accept Canadian coins or major credit cards. Change machines are conveniently located near the pay stations. Additional time can be purchased from any "pay by plate" meter.
Steven Rees, Senior Program Officer, AHS Capital Management says the new equipment does not collect, search or store personal or credit card information, nor does it change how parking tickets are enforced or administered.
"AHS does not consider parking tickets as a primary revenue stream," says Rees, adding that the licence plates are used to provide proof of purchase. "These new meters were purchased to help people access and pay for parking faster. They were not put in place as a way to better enforce or distribute parking tickets."
Cole agrees: "The last thing we want to do is to put a parking citation on someone's window. Our focus is on education and working with people."
Cole says AHS provides weekly and monthly passes for long-term visitors at a reduced rate. Compassionate parking passes are also available for patients who cannot afford parking.
For parking info at MHRH, visit http://www.albertahealthservices.ca/assets/info/park/if-pmap-medicine-hat-regional-hospital.pdf. For more about parking at CRH, visit http://www.albertahealthservices.ca/assets/info/park/if-pmap-chinook-regional-hospital.pdf.