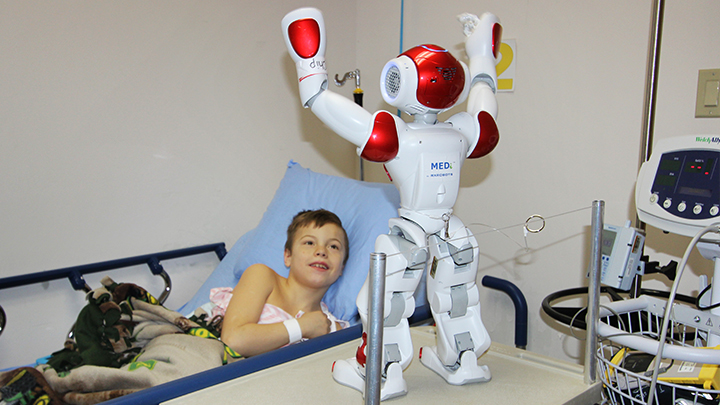 Chip entertains patient Ethan Van Der Smit, nine, following Ethan's gall bladder surgery.
Story and photot by Sherri Gallant
As the child life specialist on pediatrics at Chinook Regional Hospital, Maria Malcolm is known for having a great rapport with kids, but lately she's been playing second fiddle to a robot named Chip.
Chip arrived at the Lethbridge hospital in January, and has become an instant hit with young patients, easing their anxiety and reducing their pain during procedures. The two-foot-tall, 11-lb. robot – purchased through an $18,000 contribution from the Chinook Regional Hospital Foundation's pediatric fund – can play soccer, give a high-five, tell a story and provide comfort.
Lethbridge mom Korina Van Der Smit says Chip comforted both of her sons when they were in the hospital.
"My son Ethan is nine years old and was in the hospital to have his gall bladder removed," says Korina. "He was extremely afraid to go into surgery but when he heard he could visit with Chip, it made it easier. It kept his mind off why he was here.
"My other son, Luke, was in the hospital the week before Ethan was and he also had the privilege of meeting Chip, so when he came home he told his brother all about the 'magic robot.' It became something they still talk about."
Malcolm programs and controls Chip, a MEDi (Medicine and Engineering Designing Intelligence) robot through a tablet-based application.
"Children respond incredibly well to Chip," she says. "One of our regular patients – a six-year-old girl – was so entranced by Chip that she didn't even cry when her blood work was done. She began to get upset when she saw the needle, but we asked her to listen to Chip. She focused on him and what he was doing, and the blood work was done. Chip cheered and she grinned. Her mom was so happy."
When Malcolm moves Chip through the hallways on his special cart, people of all ages are drawn to him – even when he's not switched on. "One of our older patients doesn't need him for distraction, but loves to try Chip's applications, and he tells me which ones he thinks will work well for the younger kids."
Malcolm became aware of the technology when Dr. Carrie Kollias, a local orthopedic surgeon, told her about similar robots at Alberta Children's Hospital in Calgary.
A study there showed children who interacted with the robots during influenza vaccinations reported 50 per cent less pain compared to youngsters who received their vaccination with little or no distraction.
Malcolm and Kollias presented the idea to hospital leadership and to the foundation, and it was met with unanimous approval.
Sarah Carrier says the robot comforted her six-year-old son, Kale, when he needed a series of blood tests recently.
"To watch your son go through any type of medical procedure is extremely hard for any parent," says the Lethbridge mom. "They brought Chip in when Kale was getting a blood test. Chip talked to Kale and explained what was happening. Even though he had blood taken before, having Chip talking to him made a world of difference. It brought a big smile to his face. It's an amazing tool for the hospital."
Jason VandenHoek, CEO of the Chinook Regional Hospital Foundation, agrees.
"Anything that can make a child's stay in hospital a little easier gets our vote," says VandenHoek. "This little fellow is absolutely amazing."
Malcolm says she is grateful for the foundation's support.
"The robot was a large purchase that I never thought would be possible, but the foundation was more than willing to help," she says. "It's a unique and special item that children can only see when they are here at the hospital. Being in hospital is not fun or exciting for children but meeting Chip can help turn a negative experience into a much more positive one."