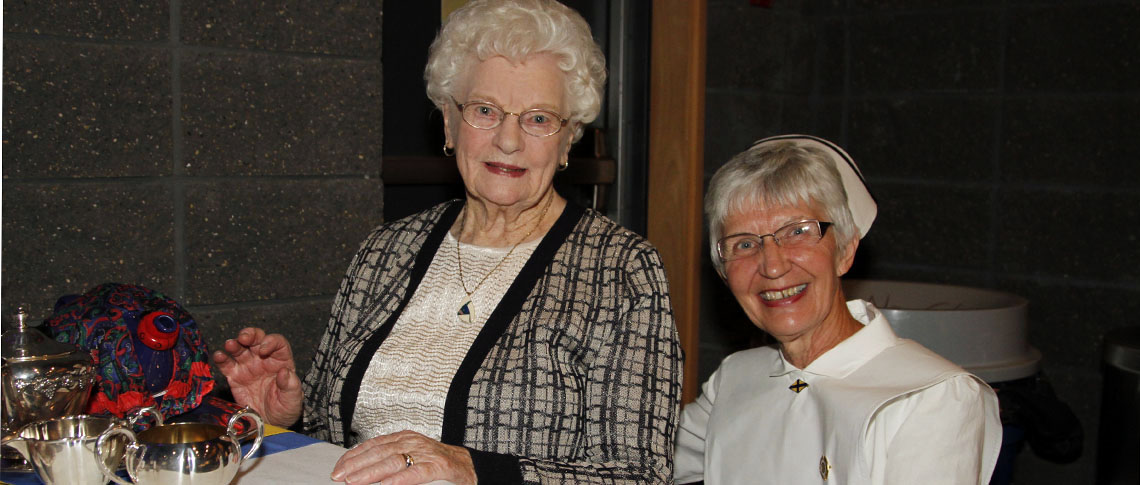 121 Years of Caring
Story by Lisa Squires; Photos by Lisa Squires and Ken Wou
After 121 years making life brighter for patients; thousands of volunteer hours logged; and more than $1 million raised for the hospital, the Medicine Hat Regional Hospital (MHRH) Auxiliary Association is disbanding due to aging membership and recruitment challenges.
"We can't do the activities we used to because we don't have the members," says Thomas, who joined in 2010. "We can't attract new members because we aren't doing the activities."
A commemoration tea was held at the hospital in November to honour the volunteers, who shared memorabilia collected through the years. Members were also presented with corsages and cards, thanking them for being pioneers of patient-centred care.
"We're thankful for everything they've done to enhance the patient experience and for the heartfelt dedication current and past members have shown," says Linda Iwasiw, Senior Operating Officer of Acute Care East, South Zone for Alberta Health Services.
Heather Bach, Executive Director , Medicine Hat and District Health Foundation says the group's helped raise funds to purchase patient beds, ultrasound equipment, portable defibrillators and more.
"Since we started tracking auxiliary donations in 1998, this small but determined group of has raised more than $1 million," says Bach. "That doesn't include donations and contributions before 1998, or the selfless hours volunteered over the last 121 years."
Originally called the Women's Hospital Aid Society (WHAS), the group was created in 1894 to raise funds to build the Nurses' Residence, which opened in 1905. In the decades that followed, auxiliary members supplied sheets, blankets and pillows for the hospital; hand-knitted baby items; and provided a library and mobile cart of reading material and confectionary items for patients.
Membership peaked in 1908 with 546 women, but then began to decline until the group temporarily disbanded in 1932. After the Second World War, the group was revived and became the Ladies Auxiliary. In 1985, membership was opened to men and the group changed its name to the MHRH Auxiliary Association.
"Our job was to provide little extras for patients, comfort items to improve their stay," says 91-year-old Joyce Condon, who joined in 1986. "We raised funds through teas, raffles and lottery tickets. In 1986, we opened the Gift Shop and ran it until 2010. We created a Humour Room in 1991 for patients and families to visit and relax. And, in 1992, we opened a food service called the Hospitality Terrace. All proceeds went back into patient care."
Some members plan to continue to volunteer with the Foundation—at least for a while longer.