Expanded ED a plus for Pincher Creek
Story by Kerri Robins; photo by James Frey
PINCHER CREEK — A new modern, open design is bringing staff and patients closer together and fostering better communication thanks to recent renovations in the emergency department (ED) here at Pincher Creek Health Centre.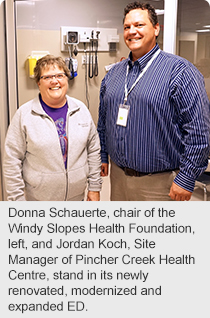 "We haven't had any renovations to our ED since the health centre was built in 1981," says Jordan Koch, Site Manager at the health centre. "The nursing station and the old waiting area weren't within sight of each other, so the first thing we changed in designing the new layout, was an open space where staff could see and interact with emergency room patients."
Upgrades include:
a new glass partition and registration desk;
the expansion in size of four patient rooms;
the creation of a housekeeping room in the operating room area to improve infection prevention.
Function was key in planning the design of the new ED, along with some forward thinking on what infrastructure would be needed for future growth.
"Our old area lacked enough space and just wasn't keeping up with current needs," says Koch. "Our redevelopment included annexing some adjacent empty space, moving a wall and making a new supply room."
The renovation also saw construction of a new room to provide patient privacy as required.
With an eye toward the future, the urgently needed new space includes new data ports and more electrical outlets.
"We needed to consider how fast technology changes, especially in the medical field, so we wanted to ensure the infrastructure is in place now to keep up with future trends," adds Koch.
"We service a large population here in southern Alberta including Pincher Creek, the Peigan Reserve and West Castle Hill, so it's critical we plan for the next 25 years."
With new flooring, lighting and damage-resistant walls, the new space also adheres to strict infection-control standards.
At a cost of $650,000, the 'space lift' was largely funded through a Windy Slopes Health Foundation donation of $450,000.
The renovation — which took place from February to August this year — went smoothly with no hiccups, so to speak.
"Looking at our priorities, it was clear that renovating our existing space was critical and that our existing equipment continues to serve our needs," says Koch. "With that said, new equipment will be added on an as-needed basis."
Health centre staff has already noticed the benefits of the modernized ED space.
"We have better patient flow, now that our staff can see the waiting room and ED beds," says Koch. "And the improved level of staff-and-patient interaction is providing a higher level of service with regards to their health-care needs."
Foundation chair Donna Schauerte says she's thrilled with the community's commitment. "Our community rallied 100 per cent to support this project — and because of such strong commitment we've been able to create an ED that meets our growing health care needs.
"I can't put into words how grateful I am for the loyalty and dedication, from members of our community and business and private donors, in making this renovation a reality. It's really quite remarkable."
For more information please visit www.wshealth.ca/