Foundation support gives Bow Valley a boost
Story by Kerri Robins; photo by Lisa Squires
It's been less than two years since its arrival, but equipment bought for the Emergency Department (ED) at the Bow Island Health Centre has more than paid off in quality health care.
The Bow Island & District Health Foundation donated $77,000 to the centre in late 2013, which was then able to purchase some critical equipment for its ED. The centre's wish-list included a $20,000 central cardiac monitoring system, a $9,000 trauma stretcher, a $10,000 glidescope (used for intubation and viewing of the airways), a $10,000 medical-equipment sanitizer, a $16,000 vein viewer, a $9,000 ultrasound system, and a $3,000 tonometer (used to check pressure inside the eye).
Alta Magee, site manager at the health centre, says she's pleased with every piece of equipment — particularly the central cardiac monitoring system, which has improved workflow.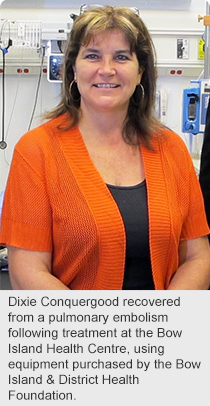 "Prior to getting this system, cardiac patients were hooked up to a stationary bedside heart monitor via electrodes attached to their chest. Staff needed to remain in the room at all times to keep an eye on the patient's heart rhythms and functioning," says Magee.
"Now, while patients still wear the electrodes, the central monitor is stationed in the triage area of the emergency department — so we can remotely monitor patients' heart rhythms and function.
"The cardiac monitor lets staff perform other tasks with the peace of mind that they can monitor all of their patients from a central spot — and be notified immediately of any heart problems, such as an irregular heartbeat. It really streamlines our workflow and improves our care."
Patient-first, quality health care is what the centre delivers.
Dixie Conquergood knows all about it, firsthand. Nearly a year-and-a-half ago, her family grew fearful for her life after she developed a pulmonary embolism, a blood clot that travelled through her heart to her lung.
But thanks to the upgraded equipment that helped to monitor her cardiac functions, the trauma stretcher upon which she was resuscitated and the health care professionals in the Bow Island Health Centre ED, Conquergood is doing well these days.
"Even though I'm still on blood thinners to prevent blood clots — and it's scary thinking I may never come off them — I'm back at work full-time, says the 51-year-old Bow Island resident, who's also a foundation member. "And for that, I give thanks every day for the great care and knowledge of the staff for keeping me alive."
Nan MacLean, Chair of the Bow Island & District Health Foundation, says she's thankful for the support from her community and board members.
"We have an active community who care for each other — and it shows through all the work they do on behalf of health care in our area," says MacLean. "Our board members are (the best), bar none, when it comes to the time and effort they contribute to every cause."
For more information, please visit www.inyourcommunity.ca.