Ultramarathoners tackle Rockies to raise cash
Story by Kerri Robins; photo by Rob Schwabenbauer
Taking on the rough and rugged terrain of the Rocky Mountains in the Crowsnest Pass is a challenge that Team Mental Rescue eagerly tackled during the Sinister 7 Ultramarathon over the July 11-12 weekend to raise more than $12,000 for mental health.
Under their mantra — "running for the mind, one mile at a time" — seven Edmonton firefighters and one 'civilian' put their mental and physical mettle to the test over the 161-km race in support of the Mental Health Foundation in Edmonton. Teams were given 30 hours to finish the course, which traverses an elevation of 5,678 metres.
Team Mental Rescue's goal is to build awareness that mental illness affects us all. Member and firefighter Rob Schwabenbauer says he knows first-hand how mental illness can affect lives.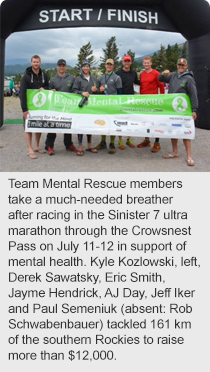 "My father is passed away now, but he struggled with depression for many years, and I saw how difficult it was for him to cope," says the 38-year-old. "It was difficult for all of us and hard to know how to help him sometimes."
According to the Mental Health Foundation, 49 per cent of people who live with mental illness do not seek help, most likely because of its associated stigma. And 20 per cent of Canadians (one in five) will personally experience a mental illness in their lifetime.
Similarly, Alberta Health Services (AHS) physicians see more individuals for anxiety disorders than any of the other mental health diagnoses, and estimates that 15 per cent of all health disorders by 2020 will be related to mental health. Furthermore, more than 500,000 Albertans, or 16 per cent of the population, receive at least one mental health service from a physician.
Team member and firefighter Paul Semeniuk, 32, echoes Schwabenbauer's sentiments.
"We really want to shed some light on mental illness," he says, "and our goal is to give our strength to those coping with mental illness, for example, depression, anxiety or schizophrenia."
Paying attention to our mental health is as important as paying attention to our physical health, says psychiatrist Dr. Laura Calhoun, Provincial Medical Director, Addiction & Mental Health, AHS.
"We are seeing more and more people discussing mental illnesses and addictions," she says. "Bringing these silent illnesses out of the closet is encouraging and really helps break down the stigma barriers to getting help."
Breaking down barriers and eliminating the stigma is a worthy goal, says Ben Horcica, Chair of the Mental Health Foundation in Edmonton.
Horcica also says he's pleased to see the efforts team Mental Rescue has put forward to raise the profile of mental illness. "We need people to start speaking up on behalf of mental illness."
"Bringing this health concern out into the open will encourage those struggling with the illness to come forward and seek help," says Horcica, "but more importantly, it will help people understand that it's an illness like any other and nothing to be ashamed of."
Running as a team, but also competing individually, three of the eight completed the course. Firefighters Eric Smith, Jayme Hendrick, and Jeff Iker ran pretty much non-stop to cross the finish line just shy of the 30-hour time limit.
Named for the Seven Sisters Mountain that looms over much of the course, Semeniuk says the race, while gruelling, is worth it.
"What we do as firefighters, and the challenges we face every day, pales in comparison to those dealing with mental illness," he adds.
If you, or someone you know needs help, please contact the mental health line, 1-877-303-2642.
For more information, please visit www.hopethroughunderstanding.com, or follow team Mental Rescue on their trek for positive mental health at www.mentalrescue.com