Medicine Hat foundation, My 96 FM and McDonald's team up for 30-hour fundraiser
Story by Kerri Robins; Photo courtesy Heather Bach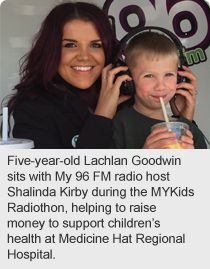 MEDICINE HAT — Hitting the airwaves for the first MYKids Radiothon proved a winning strategy that raised more than $15,000 to support children's health at the Medicine Hat Regional Hospital.
Thanks to a partnership between the Medicine Hat & District Health Foundation and a local radio station, My 96 FM, the airwaves crackled on June 4 and 5 as Medicine Hat and regional residents tuned in to hear sick kids and health care professionals share their uplifting stories over 30 hours of air time.
Upon hearing about the fundraiser, Johanna Goodwin and her five-year-old son Lachlan made a special trip to their local McDonald's to watch the live broadcast.
"Lachlan was excited to be there and pretty happy to be part of something special like this," says Goodwin, a Medicine Hat resident and part-time porter at the hospital. "We're a growing community and our needs, especially in children's health, are growing as well."
Heather Bach, Executive Director for the foundation, says she's thrilled with the community response.
"This was the first time we held this event and the support was overwhelming," says Bach. "We'll definitely be looking into hosting the second annual (event) next year."
Many 'McHappy' families also came to the live event to support pediatric care at the hospital, including the Neo-natal Intensive Care Unit (NICU), Children's Health and Developmental Services (CHADS), and Addictions and Mental Health.
During the radiothon, the local McDonald's donated all proceeds from Happy Meals and coffee sales to the foundation.
On hand for the entire 30 hours, Bach says the success of the event more than made up for her lost sleep.
"Our community really stood behind us and contributed to a great success," she says. "Residents certainly stepped up to the plate and made it clear they are fully committed to helping kids — and that's what this has all been about."
Goodwin also says she enjoyed the event with her son. "Raising money for pediatric care is such a good cause," she says. "I really hope this becomes an annual or semi-annual event."
For more information, please visit the Medicine Hat & District Health Foundation.