Shelter in Place
Story and Photo by Lisa Squires
When disaster strikes—whether it's a fire, tornado, flood, pandemic, power failure or chemical spill—it's important to be prepared.
Alberta Health Services' (AHS) Emergency and Disaster Management (EDM) is responsible for ensuring health care facilities and care providers are prepared to protect you and your loved ones in an emergency. Depending on the scale of the emergency, we often work with a number of community partners to practice and coordinate our efforts.
Recently, AHS joined provincial agencies, industry and fire, police and municipal workers from Medicine Hat, Redcliff and Cypress County in a mock disaster requiring residents to "Shelter in Place."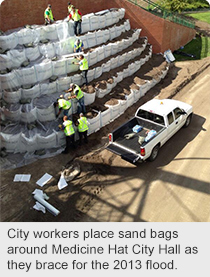 The exercise included a mock chemical spill that released a plume of hazardous materials into the air, prompting city officials to issue the mandatory "Shelter in Place" order. This requires residents to immediately go indoors and seal all doors and windows until further notice.
For hospitals and health-care facilities, issuing a Code Grey "Shelter in Place/Air Exclusion" is a huge endeavour.
"It definitely wouldn't be business as usual," says Pam Hodgkinson, AHS Public Health Inspector who participated in the mock exercise organized by the City of Medicine Hat. "Participating in this exercise gave everyone a better understanding of the impact this would have on the hospital, staff and patients. We'd have to look at things like transferring patients, rescheduling non-urgent procedures and various staffing issues. This exercise allowed us to discover what we don't know, so we'll be ready to respond, if and when we do."
That's what Ron Robinson, Director of Emergency Management for the City of Medicine Hat, was hoping the exercise would accomplish.
"We wanted to test our communication plan and ability to separate the Emergency Operations Command Centre and work of the Incident Command Post."
In an emergency, he says Incident Command is responsible for setting up near the site and stabilizing the immediate incident. Anything outside that "hot zone" is the responsibility of the Emergency Operations Command (EOC), which AHS and many other partners are part of.
And whenever there's an emergency that impacts health care operations, staff and patients, AHS initiates a Zone EOC until the issue is resolved.
Robinson says the City is planning a "Shelter in Place" public awareness campaign, along with a new mass notification system later this year. It would be an opt-in program residents can sign up for and share their contact information. This would allow the city to reach residents in multiple ways, including landlines and cell phones, email and social media, including Twitter, RSS feeds and others.
AHS EDM is currently in the process of updating current Code Grey plans and will be sharing these with Medicine Hat Regional Hospital staff later this year.
To learn more about how you and your family can prepare for a disaster, view Disaster Resources.