Medicine Hat eye patients appreciate hi-tech precision treatment close to home
Story by Kerri Robins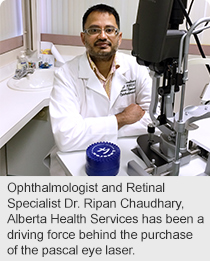 Denise Dogterom has a potentially blinding condition — known as diabetic retinopathy/macular edema — where bleeding occurs in her retina.
But the 42-year-old Medicine Hat woman — whose condition is linked to her Type 1 diabetes — is now able to have her sight treated thanks to new state-of-the-art equipment: the Pascal Eye Laser.
"The procedure is painless and doesn't take as long as before," say Dogterom.
The Pascal Eye Laser, the third of its kind in Alberta, arrived at the Medicine Hat Regional Hospital Retina Clinic in June and is treating people with severe retinal conditions, some of which are caused by diabetes.
Spearheading the purchase of this specialized equipment is Dr. Ripan Chaudhary, an Alberta Health Services ophthalmologist and retinal specialist.
"The laser is useful for patients suffering from diabetes because this innovative tool helps treat two of the three leading causes of blindness: diabetic retinopathy/macular edema (a spot near the retina that becomes swollen due to fluid buildup) and retinal vascular occlusion (blockage or closing of a blood vessel)," Chaudhary says.
"The laser treatment provides laser energy transmitted by light onto the retina in a very focused beam."
Diabetes is a condition in which the body processes carbohydrates incorrectly due to poor insulin production, which leads to a buildup in the blood of sugars known as glucose. This buildup can cause destruction of the small blood vessels in the retina as well as organs, including kidneys, heart and the extremities.
In Dogterom's case, the laser is able to stop the bleeding in her retina by precisely treating the bleeding blood vessels.
"Denise is fortunate to receive this treatment because the tool provides more precision by delivering a single burst, pre-determined pattern of multiple laser applications," says Chaudhary. "This allows for much quicker treatment times with considerably less discomfort to the patient.
"Before the Pascal Laser treatment was available to us, we used a similar tool that applied longer bursts more often in a longer treatment session."
An added benefit is that Medicine Hat patients can have treatment right in their community, saving on travel costs and time away from work.
"It's nice having treatment at home because travelling to Calgary would be costly and time-consuming," says Dogterom.
"I'm grateful the Pascal Laser has helped me avoid that."
Funded by the Medicine Hat & District Health Foundation through a significant donation from the Lions Club in Medicine Hat, the equipment cost $125,000.
Jason Melhoff, Chair of the Medicine Hat & District Health Foundation, says he's excited about the Pascal Laser treatment.
"Keeping people in their community for treatment is important and we're indebted to the Lions Club and their support," adds Melhoff.
"It's essential that we use technology in innovative ways to improve health care, and I'm happy we can continue giving our community the benefit of state-of-the-art equipment."
For more information, please visit www.inyourcommunity.ca.