Discover the North Zone RN/RPN Locum Program
DISCOVER THE NORTH ZONE RN/RPN LOCUM PROGRAM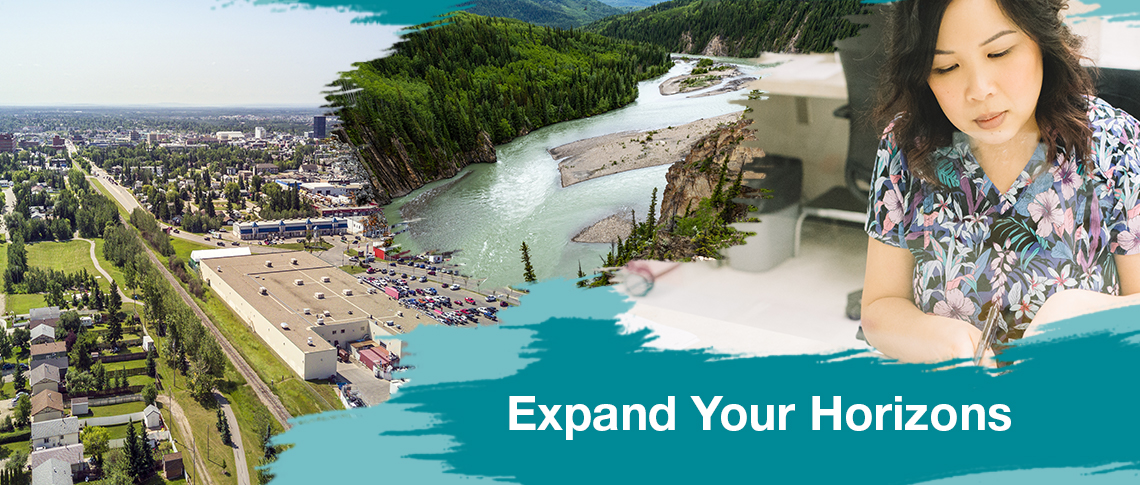 Imagine an exceptional opportunity for personal and career growth
A placement through the North Zone Registered Nurse/Registered Psychiatric Nurse (RN/RPN) Locum Program offers personal and career growth opportunities. Alberta Health Services (AHS) and the United Nurses of Alberta (UNA) have a unique agreement that provides nurses opportunities to gain experience in a variety of practice settings such as acute care, emergency, obstetrics and continuing care by matching nurses with northern Alberta communities based on your experience, availability, and location preferences. Nurses have the opportunity to grow their practice, and northern patients benefit from the additional knowledge and experience of trained nurses coming to their area. It's a win-win solution that you can feel good about.
Advantages
"I have always worked in big hospitals and was very specialized. When I came as a locum it's a totally different way of nursing. You really get to know your patients, the community and different cultures from around the world. You develop really nice relationships that way." - Barb, completed various locums.
Aside from the benefit of gaining experience working with a variety of departments, RNs and RPNs are able to work to their full scope of practice, treating patients from all stages of life and with varying needs. Being part of the locum pool also offers additional incentives, including a premium payment of $6.00 per hour as well as reimbursement for travel costs/per diem expenses.
"I just really fell in love with the area. It's nice to have that diversified experience you get working in the North. That's what appealed to me. You get a little bit of everything from trauma, cardiac, pediatrics, obstetrics, health teaching and a lot of mentoring." - Audrey, former locum practitioner who has since relocated to northern Alberta.
Alberta's Unique North
Covering a vast expanse of the province, Alberta's north offers exceptional lifestyle opportunities. Positions in Northern Alberta offer great benefits beyond your career – discover a different pace of life, meet new people, and find new recreational activities.
The extra-long summer days deliver ample opportunity to enjoy the outdoors: hiking, biking, and riding horseback or ATVs along thousands of kilometres of trails, or enjoy fishing, swimming, or paddling along northern waterways. Winter sports are also hugely popular and locals enjoy skiing, skating, ice-fishing or snowmobiling through the varied terrain. From prairie grasslands to dense boreal forest, you'll find yourself immersed in communities with unique cultures that are all their own.
Is the RN/RPN Locum Program right for you?
You may be eligible to participate in this program if you:
Are registered, or eligible to be registered, to practice as a Registered Nurse or Registered Psychiatric Nurse in the Province of Alberta.
Have at least one year of applicable nursing experience – two to three years of experience is preferred.
Are able to travel and work in the North Zone of Alberta Health Services.
You are not required to make a minimum or maximum time commitment in order to participate in the program. While on a locum placement, your shifts and shift rotations will follow the existing collective agreement. In general, locum assignments will be full-time for a period of three weeks; however, some assignments may be an exception based on operational needs.
Learn More
You can learn more or apply to the North Zone RN/RPN Locum Program by visiting our website or by e-mailing NZ.RNLocum@albertahealthservices.ca.
Successful applicants will be placed upon a roster and contacted when North Zone work opportunities matching the candidate's skills, experience and work preferences become available.