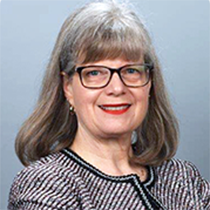 Janice Stewart is the Chief Zone Officer for Central Zone.
A Registered Nurse by background, Janice has over 30 years of healthcare experience, most recently as the Senior Operating Officer for the Peter Lougheed Hospital in Calgary. Prior to that, Janice has held various Director and Executive Director roles in medicine, cardiology and cardiac surgery, women's health, homecare and surgical services.
In addition to her nursing degree, Janice has a Masters in Administration and holds an Adjunct appointment to the Faculty of Nursing at the University of Calgary.
Passionate about people, Janice is an advocate for patients, staff and volunteers and enjoys working collaboratively with staff, physicians and community partners to achieve positive results. Her commitment to achieving results for patients and staff is underscored by her contributions as a champion and mentor of the Leadership Safety Rounds program, and as a member of the Provincial Joint Committee with UNA.
When she isn't working, Janice finds a healthy work life balance by spending family time with her husband, daughter and dogs. In her spare time she also fosters rescue dogs with the Alberta Animal Rescue Crew Society (AARCS).