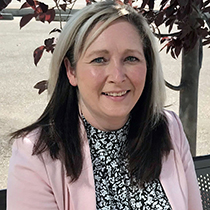 Stacy Greening is the Chief Zone Officer for the North Zone, sharing accountability with Dr. Brian Muir, Zone Medical Director.
Greening came to the role in January, 2022, previously having served as the Senior Operating Officer for Grande Prairie and Addictions and Mental Health for the North Zone.
Greening was born and raised in Alberta and is proud to live and work here. She is a double alumnus of the University of Alberta and holds a Master of Science from the School of Public Health. Her thesis and published research focused on strategic decision making, change management, and governance in health care.
She also holds the designation of Certified Healthcare Executive (CHE) with the Canadian College of Health Leaders and recently completed the Indigenous Canada Course through the Faculty of Native Studies at the University of Alberta.
Outside of work Greening is an active community volunteer, avid reader and aspiring golfer. She also enjoys a good road trip. Favorite road trips have included: an all-in-one day drive from Edmonton to Portland, exploring the countryside of Ireland and Scotland with friends, and a family road trip to Alaska.