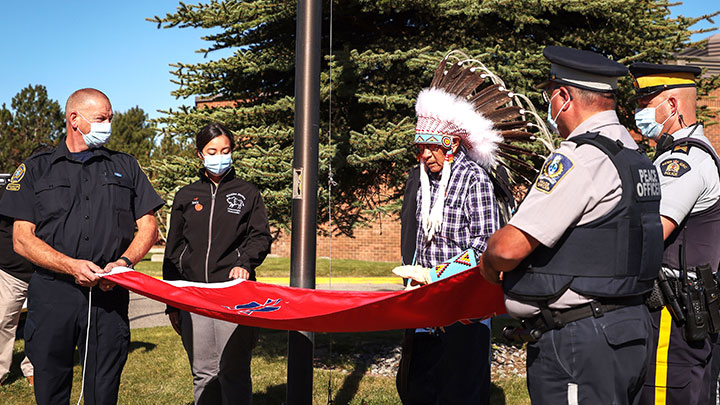 Siksika Nation elder Clement Leather says a prayer over the Siksika Nation flag before it is raised at Strathmore District Health Services.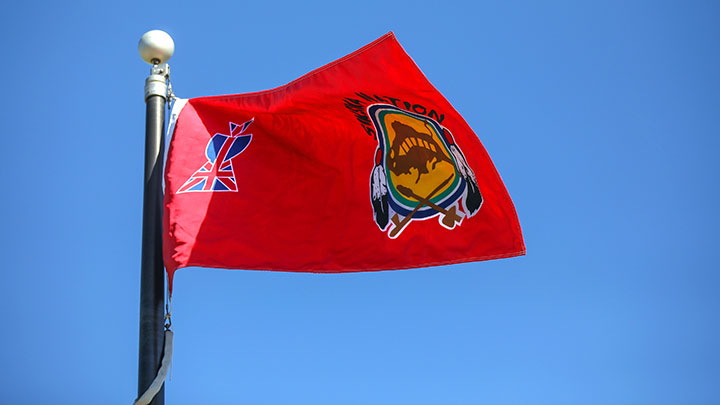 The Siksika Nation flag now flies permanently at Strathmore District Health Services following a ceremony on Sept. 21.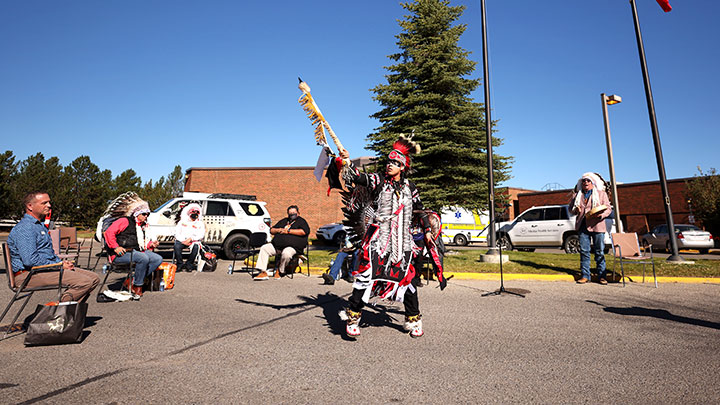 Sayder Duckchief performs a traditional Siksika dance at the ceremony.
Historic hospital ceremony shows 'we're making progress', says Chief Crowfoot
Story by Bruce Conway | Photos by Leah Hennel
The Siksika Nation flag now flies on a permanent basis, alongside the Canadian and Alberta flags, outside Strathmore District Health Services.
On a sunny Sept. 21 — one day prior to the 144th anniversary of the signing of Treaty 7 — a historic ceremony took place in front of the hospital. It's the first time a First Nations flag has been raised to a permanent location at an Alberta hospital site.
"We've got a lot of work ahead of us. This is one milestone along the way, but I do think we're making progress," said Chief Ouray Crowfoot.
He also emphasized the importance of continuing to build working relationships with the community and with the hospital to ensure Siksika members feel comfortable accessing the services they need.
Along with Crowfoot, the event was attended by other Siksika Nation leaders and members of Council, along with Siksika elders, AHS leaders and hospital staff, and representatives from the Town of Strathmore.
Siksika leaders spoke about the history of the Nation and its relationship with the territory and the land. They also spoke about concerns of discrimination and racism against First Nations people that must continue to be addressed in the community.
Tyler White, corporate executive officer of Siksika Health Services, also spoke about the flag-raising ceremony as an important symbol of cooperation.
"This ceremony is much more than raising a flag. It's the symbolism that demonstrates our significant relationship with Strathmore Hospital and Alberta Health Services, and our intention and commitment to work together for the benefit and healthcare of all people."
Siksika Nation elder Clement Leather provided prayers during the ceremony, and the event also featured traditional Siksika songs and dances.
Nick Thain, senior operating officer, Calgary Zone, expressed thanks on behalf of AHS, calling it an honour to be able to participate in such a historic event — adding it's vital that all people feel respected and empowered with the healthcare system.
"It's not just about today," said Thain. "It's about the actions we take moving forward — and AHS is absolutely committed to that."